---

June 1, 2003 - The Sun... At the Observatory...

Comments: Well, they say it can't rain forever! And it's about time it quit, eh? After having done not much more than sleep and work for what seems like weeks on end... I am ready.

Shall we start with the Sun?

Here's the picture... Hazy skies and 365 on the limb... Photographing is not worth the trouble. But, boy howdy... It's definately worth taking a look at! Absolutely boiling in the Wilson Effect, 365 shows very little of its' true character right now... And for good reason.

It just clipped off another CME!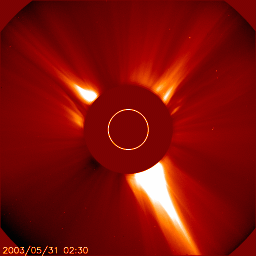 SOHO image


WOW! Talk about a ring of fire... Isn't that just gorgeous?? This one will deal a glancing blow off our atmosphere and send chances of aurora our way. Of course, you and I both know that a CME will also send clouds Ohio's way don't you?

Always...

********************************************

Hey, hey... A call to go observing? You bet...

Don't wait up on me.

I'll be back when I can to tell you what we studied, but for now? I've got miles to go...

*********************************************

Yep. It's the next day and I hated myself when I had to get up. But cha' know what? I'd have hated myself a whole lot more if I hadn't went observing!

And when I'm outside the dome and hear "Hells Bells" begin to play? I know what the "Boss" is going to say...

Are ya' ready? Then turn up the AC/DC and let's rock...

M51 and NGC5195 - Things could be better, but hey... It's only about 10:40 and not really very dark yet. Still, it's nice to see the majority of the M51's grand form and accompanying galaxy NGC5915 again.

NGC5520 - Still a bit sky bright, but let's do this! A central nucleus structure is immediately apparent. The core structure seems to elongated almost like an edge-on, then takes on the appearance of a spiral. Is it barred? Answer? Yep.

UGC9803 - Very small, very round and very faint.

At 10:55 I stepped outside to check on the northern hoizon. Definately some low key auroral activity here! Soft, passing bands of pink rode the skyline about 50 degrees above the horizon, and very often turn toward the green lower down. Another form of light pollution? Yes. But it is a pretty one! No spectacular pillars or intense glowing clouds, but the ampitheatre of "light" is a fine, natural show.

So quit growling in there!! ;)

NGC5561 - Very tough. Very. Super low surface brightness and super wide aversion produce only the faintest hint of elongated form.

IC986 - A "winking" stellar nucleus. Lost upon direct vision, this galaxy has a soft, hazy, elongated form.

IC996 - Moderately small and low surface brightness. This roundish galaxy holds a slight concentration toward the core region upon movement or bouncing aversion.

NGC5607 - Very diffuse in appearance. This face-on spiral shows a slight concentration toward the center upon wide aversion.

NGC5585 - A sprawling face-on spiral with loose, diffuse and very faint arms. A nice study for just this reason. The stellar core comes and goes at the whim of our electrically charged atmosphere, but the true beauty arrives as tiny stellar points materialize randomly across the surface. Quite beautiful. No two seem to appear in the exact same spot twice, except for the core region.

NGC5640 - Moderately large, yet tough, this very faint beauty shows a roundish, slightly concentrated nucleus, but a very diffuse, aversion only kind of structure.

NGC5602 - A grand, face-on spiral. Easy direct with a concentrated and sometimes stellar appearing nucleus. This one contains a soft sweep of compacted spiral arms, but no well-defined dark dustlanes.

NGC5620 - Accompanying a star, this small, slightly enlongated galaxy holds an even brightness. The star, perhaps, shields the structure... But what is visible is somewhat like an underscore... Or maybe a smile?

Midnight. Auroral bands have now dropped to less that 30 degrees above the visible horizon. Sitll a soft pink arch that sometimes fades to a pale green further down. A look round shows Scopius due south and Saggitarius is on the rise...

NGC5631 - Beauty! Easy direct, face-on. Classic spiral signature with a highly concentrated nucleus structure. Seems to appear tightly rolled until a moment of total clarity comes and two beautiful sweeeping arms appear. Very nice!

NGC5624 - Small, quite bright, and very round spiral of even structure. Quite delightful in its' compact appearance.

NGC5671 - Very small and soft spoken, the shy-type galaxy's only structure is its' apparent over all diffuseness! Remembering low surface brightness studies and all my tricks of aversion, doesn't help to draw anything else out of this faint baby.

IC4470 & NGC5712 - Delightful pair. The NGC5712 is very silvery in appearance - almost nebula-like in its' "shine". Definately high surface brightness. The IC4470 seems almost dull in comparison, but slightly larger?! Most unusual pair... Neither one can be held direct... And the two never appear together even with aversion..

NGC5989 - Large, diffuse and intensly irregular. At first impression, this galaxy looks like a very faint rendition of the "Trifid Nebula"! No real nucleus nor definition. "Broken" is the only word to describe it. It is broken... Like the M81. There are dark notches that do not correspond with known galaxy structures here! Very curious galaxy...

IC1146 - Very tight! Easy up direct, this one has a super stellar nucleus and bright structure surrounding it. It hazes out towar the frontiers. Very, very sweet...

NGC6015 - Huge, loose spiral with wide sweeping structure, but no defined nucleus. Awesome! Check this out.... Tap the scope just a bit to cause vibration and watch all these tiny concentrations, knots and stellar points appear along the outer arms!! This is so cool... They just twinkle like tiny diamonds everywhere! Ooops... Lost my science head there.. Many stellar points and possible O2 regions are visible upon movement and aversion. ;)

IC1154 - Super diffuse and wide aversion only. This moderately small galaxy first appears as nothing but a slight contrast change. Patience draws little structure from it besides a slight concentration to one edge.

Well, all right... Some sky at last! It's been incredibly fun and I wish I could stay and study til' dawn! But... What's that you said? If I've ever been annoyed... Look at you... You're self-employed? Heheheeee... Now how do I reply to that, eh? Besides... "Out here in the fields... I bow for my meals. I get my back into my livin'..." ;)

Bruce, my friend? It's been real.. You know where to find me.

Anytime.


" It's all the same, only the names will change ... Everyday it seems we're wasting away. Another place where the faces are so cold...

I'd drive all night... Just to get back home."