---
November 5, 2004 - Venus and Jupiter... Home Scholars at the Observatory... and Who Let The Dob Out?

Comments: Hey. It can't rain forever in Ohio, even though it feels like it at times. For some odd reason, I woke up a few minutes before my alarm was set to rudely interupt my sleep and you know me... I don't even get out of bed before I look out the window. Even without my glasses I could see the bright balls of Jupiter and Venus down very low on the horizon and the decision not to sleep 15 more minutes was easy! Finding some quick clothes, I headed outdoors to enjoy the spectacular pairing and was really quite surprised to find them further apart than I had expected. (well, duh ~T. they were closer yesterday!) No matter, because even about a degree of spacing sure makes them wonderful! Looking overhead, I knew it wasn't going to last long because the clouds were heading right back that way, so I enjoyed what I could.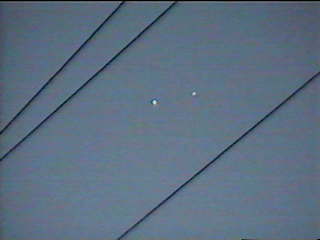 Taking my videocamera to work with me, I knew odds were that the skies would clear just as quickly as I was in a position where I couldn't get to any of my equipment. If I were a betting person, I would have sure won that one, because no sooner than I started out on the road than the bright pair returned to the sky! Talk about hard to pay attention to one's driving... It was difficult to concentration because something about the two kept drawing the eye. (and i was about to find out that i wasn't the only one.) Taking my camera out, I filmed the pair together while the skies were still dark. Nice job. Looks like two white balls of light on a black background. Giving up, I went about my job and soon was visited by everyone I work with wanting to know what the "two stars" were doing this morning. Apparently no one could pay attention driving because of them! Smiling, I was happy to explain the presence of the planets and right before dawn the majority of us went back outside to have one last look. I tried once again with the camera and at least a few happy power wires enabled me to get something in the picture that made a modicum of sense. Now instead of two white balls, I've got a couple of lines as well!

Hey. It's all in a day's smile... ;)

Weather held good and word went out from a co-member that it was time to head to the Observatory before dusk. Tonight is our annual visit by area home scholar's and I am delighted to bring one of my small scopes to help entertain. Several members of the RAS were present and for once, it felt pretty good just to lay real low. For once I was just another body in the dark and I liked it. (program? i'm sorry. i don't do programs on a "maybe we will and maybe we won't" basis. i'm funny that way.) For anyone who was interested? I am there. Oddly enough it was one of those "good" nights for me and whatever was in the little Orion's capabilities was easily found, displayed, and re-found when eager hands accidentally moved the scope. The M11, the M57, the M27, the M71, Brocchi's Cluster, the M31, Albireo, the "Double Cluster", Almach, NGC457. M39, M45, M2, M101, M54, M36, M37 and M38 are all there. When interest lagged? I'm more than happy to let you use my binoculars and learn as well as use my scope so you learn even more. Curious? Well, that old observing bag always holds a trick or two and maybe a little bit more learning than just looking.

When all is said and done, Joe and I pack up last and head out for a late dinner. After tomorrow's Public Night, this will be the last for awhile and it will feel good to stop and get back in tune with myself. I really love doing the public thing, but I also miss my own studies as well. We discuss a bit of business, and it doesn't take long until we're just talking and I really appreciate "Gentleman Joe" for just letting me relax for awhile! Only another astronomer could understand when you leave it's because the skies are still clear...

By the time I got back, Orion had already started well up the sky and I was missing my big telescope, folks. I know I looked at a lot of things earlier, but nothing does it for me like this big o'l 12.5 dobsonian.

Let it out!!

The M27 is not a fuzzy patch in this scope. The NGC6940 walks and talks! All the clusters in Cassiopeia resolve in fantasy arrays and just the Andromeda Galaxy takes on dimension totally unseen by small aperture. I want tonight what I can't see in a small scope and the Helix and Saturn nebulae eagerly comply. The M1 is like a fantasy and even somthing as simple as the M42 show such incredible detail that I sometimes wonder why I still use a small scope. (why? probably because i can't carry around this monster, eh?) I return to two of the very simpliest and once again revel in things you simply cannot see in a smaller scope! The Plieades are so, so much more! You would have to see what a good 32mm eyepiece in this scope does to both them and the "Double Cluster" to truly understand... So many stars!

At last, I have had enough. It is time for me to light a fire and find some soft clothes. The Moon will be along very shortly and I have no real desire to explore it tonight. For now, it has been a very good day and I am tired. I have seen things tonight reveal in all their true beauty! Who let the dob out?

I did. ;)


"And everything I can't remember... As mucked up as it all may seem. The consequences that are rendered... I've stretched myself beyond my means."