---

October 27, 2004: At the Observatory: The Deep Totality of the Moon...

Comments: Most of us here in Ohio were pretty disappointed when the day dawned rainy. It's the last chance here in our little corner of the world for a total lunar eclipse for three more years. While three years doesn't seem like that long, a lot can happen in that span of time, mon ami. Things change, people change and who knows what time will bring?

By late afternoon the skies had gone from totally washed to extremely hazy. High thins ruled and only a few feather soft areas of blue would show through. I had found my easy chair right as soon as I got home from work and a somnolent state not long after. I was surprised to hear the telephone ring and I grouchily reached for it, readying myself to try and be polite to a salesman. It probably took a full minute before I actually realized that I was talking to Dave and he was wanting a weather "heads up" from my locale. Well, if I'd been on the ball I probably would have researched AccuWeather reports rather than the back of my eyelids and the best I can do is stick my head out the door and say "Dude? I'll see you there."

Sacraficing a fish and preparing an excellent basil pesto pasta, I tried not to get my hopes up. These skies were going just as quickly as they'd come. I took a shower and went about slowly stowing my gear in the back of Lyt Spd. By that time the sky had gone totally cloudy again and I was figuring I was a fool for heading out across country, but it never hurts to at least try. 20 miles later? Here came the Moon out from behind the clouds. By the time I hit Clearfork Reservior, it was hanging over the lake and creating a wonderfully picturesque scene. Well... What do you know about this? It might happen after all!

I was pleased to see cars at the Observatory when I made the parking lot, and even more pleased to see Keith, Bruce, John, Dave and Joe again. Setting my gear up, I went back down to the ClubHouse to put on coffee, tea and throw out an array of munchies. It's not much of a "Halloween Party", but hopefully it will be welcome. Going back up to the Dome with about 30 minutes or so before the eclipse begins, I stand in grinning amazement as I watch Bruce, Joe and John up on the lift and "Big Blue" moving on its own. Part of that dream is still alive, isn't it? And with creaks and groans that would do a deep sea submarine credit, the massive scope slowly changes position from a remote control.

Time is getting close and I head back out to my telescope and slide into my welcoming "easy chair". We can see where the Moon is beginning to flatten out on the northeast side and the progression is slow, covered by occasional thin clouds, but very peaceful. Coming up the Hill is a sound I well know and a few minutes later a Harley rolls into the parking lot. Not long ago, I had become acquainted with this gentleman at one of our public nights and I'm glad to see he's returned. Hey, Lee?

It's good to see you, m'man.

Oddly enough, he's one of those people that fit right in here. He's comfortable with using my telescope and bincoulars and we all just take turns tracking the Moon and watching the progression of the eclipse. (somehow i get the feeling that you dug some of those questions up just to see if i could answer them. ;) The conversation is very pleasant and as we go futher and further toward totality, the skies rapidly darken and the stars begin to come out to play.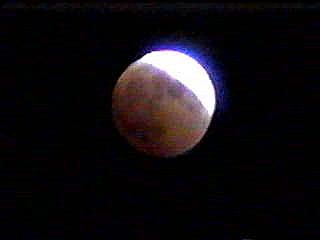 As we jokingly pass binoculars around between us, it's good to see others appreciating just what these little "portable telescopes" can do. The slight haze to the sky has left our eclipsing Moon with a less than perfect image, but what does it matter? We can see it! For all the good natured teasing I have taken over the years, I hand it right back as I pick on the "computer scopists" about finding things without a chart. This particular eclipse is getting very, very dark and even at the phase you see here, the Milky Way was beginning to walk and talk. As we reached the final moments before totality, I can do nothing more than just sit here and admire it. Those last few seconds I find the most incredible of all as the Moon mimics Mars and its polar cap so wonderfully in the night.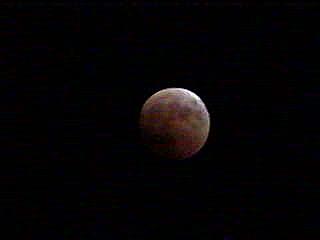 Last year's two total eclipses left the Moon a deep and bright copper color, but not so this year. This photo was taken just moments before we reached totality, for it became so dark that my camera could not sense the light even in the telescope. Visually it had went to a very dark and dusty brick red.... There was no "golden glow" to it. I do not know how else to descibe it except for that it went "flat". I do not mean that it did not have dimensionality, for to stand here and look at the Moon was a very inspiring site, but the color? It was flat.

By now, Bruce is off to do some deep sky hunting with the big telescope. Lee and I hop with my little Orion to a few deep skies objects and end up on the M32. We can hear Joe clicking away with his scope and digital camera and some of the shots he was getting blow me away, My own are terrible by comparison, nothing more than a cartoon image compared to a masterpiece. I am very impressed! Totality is going to last for awhile and half the joy for us wicked astronomers is to simply say we saw this or that during a full Moon, so I grabbed Lee and we headed inside the Dome to see what galaxy Bruce was on.

M33 was the object of choice and I've got to smile a little inside because he's picked one of the largest and faintest - as well as the nearest - to that flat Moon to have a look at. Suprisingly enough a great amount of details show through as it is only possible to study one small portion of the "Pinwheel" at a time. Of course, we move off to the incomparable M31, M32 and M110 as well and it just a really nice time to be up here high above the ground and laughing again. My request is NGC891 for a reason, but the slice of heavens revealed through the Dome's slit holds that eclipsed Moon and the company is very pleasant indeed.

The hour grows late and it's time for Lee to head out. I walk down with him for my tired old bones could use a cup of coffee. I wish you very well, mon ami! And I hope to see you again on the 6th... As he rides away, I go into the Clubhouse and grab a welcome cup of java. No sooner than I had sipped it than Bruce appeared in the doorway and said he had it on the NGC891. You know what? I'm outta' here. This was a study field for me earlier in the month and you know that I have to know... I have to know what the 31" will reveal that my 12.5" could not.

Yeah... The little galaxy group.

View in the 31"? Incredible. While I could only see the NGC891 in my scope as a bright edge-on with an averted dustlane, this scope lays it bare. It takes some of the surface brightness out of it, but adds so much more extension than I realized. The dustlane is actually divided and the entire galaxy is so direct! Even Joe likes this one... I tell Bruce about the galaxy cluster and where to find it and we move off. His reaction? "Oh, yeah. There's a whole lot of them there." Mine? Move over, dude and give me that eyepiece! I decline the automated controls for only one reason - my mind does not have to think if my hands are moving the scope. Down is east, left is south, etc. I know the map in my head and where I need to go. They are there... Oh, my gosh... They really are there! The only one I could see in my scope was NGC898, but look at all of them! The NGC906, 909, 910, 912, 913, 914 and 923... They are there. They really are there. Requesting Bruce's MegaStar assistance, I soon find out why I could not see them. My one, 898 was magnitude 14 - within my reach - but the others went down from 15 to the majority of them being magnitude 17. These are not within the capabilities of my 12.5", but they've never left my mind.

They are there.

We look at open M34 and since the Moon is starting well back out of its deep totality, Bruce, Joe and myself all are pleased to watch the shadows run across its surface with far too much aperture, but a whole lot of fun. We watch the re-appearance of an occulted star and I know what I saw... A meteor pass between us and the Moon! As the brightness overtakes Tycho, we head back down to take a few last photographs and to begin to stow away equipment and pick up things for the night. The others have long since left, and it is understandable for working astronomers. The night has gone cold and dewy... I knew this when Lee and I took a last look through the Orion for I had to find the "Double Cluster" without the finder. It's ok, though. Something happened here that none of us were really expecting and we were glad we just had a chance to see it... A deep totality.

As the eclipse draws near its final moments, Joe and I review his excellent photos. I would be so proud if these were mine! With gear stowed and things buttoned up for the night, I head for my car and watch as the very last edge of the Moon is bathed in sunlight once again. Oddly enough, those thins clouds have swept back in, like a gauzy stage curtain drawing on the final act of a celestial show. As I head back, the Moon rides with me. It has been a good night for me. Filled with friends old and new, laughter and the kind of stuff I love to do. I was just thinking no where thoughts, mainly about finding food when I got home, and then the incredible happened. From the general direction of east heading west, a huge green fireball swept the skies! It actually lit up the interior of my car through the sunroof and ended before me in an emerald stream of sparks that looked like it exploded as it extinguished! Three days ago, this also happened and left half of Ohio talking... And tonight? Ah, man...

It was like one final gift from the sky.


"Well, I'm not all me. So please excuse me... While I tend to how I feel."