---

September 29 - October 2 - "Hidden Hollow"

Comments: Are you ready? Then let's walk into anything and everything that I've been into for the last few days...


First let's set the stage. Here's the way that everything looks when it's quiet. That's the way it was when I spent most of Thursday morning and afternoon ferrying everything over that I thought we might possibly need, or anything that I knew we would need. The weather is beautiful, the forecast is great and it's only going to be a matter of time before we have guests.

Making my last run to Hale's Harley Davidson for some more door prizes, I took a last look around just really admiring this fine old place. It was now time for me to head back to the old ranchero and throw some clothes into a bag. I had left my cell phone on (for a change) and it had been ringing all day with questions. For weeks I had been answering e.mail and things were about to all come together in the blink of an eye.

On my last trip there, I get a phone call. This was from a fellow whom I knew was traveling a long way and that our happy road construction was not going to make finding us any easier. He told me where he was at and I told him to hang tight - I was five minutes away. When I pulled into the parking lot?

Oh, you know it...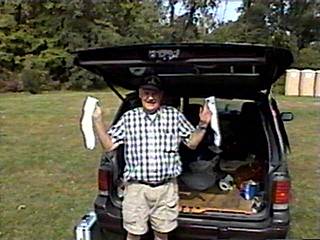 There stands my friend Tom holding up a pair of socks! Needless to say, all the stress dropped away like shedding a skin and I got to laughing so hard I thought I'd burst. Leave it to this character to remember! Heading him in the right direction, there were folks waiting on me just as soon as I arrived. The good folks from NorthStar concessions were here and looking for a place to set up. As luck would have it, so was one of our guest speakers, her husband and some of our club members!! Pointing everyone in the right direction we all head out to turn this deserted place into a star party.

When we get tables and chairs ready, the speaker hall set up, trashcans placed, cabins ready to go, and other myriad details, we look up to see that our good friends from the Miami Valley Astronomical Society had arrived and were pitching in as well. One of their members, Mark, had been diagnosed with terminal cancer very recently, and one of his wishes was to spend the evening here and touring the skies through a big, big scope. On this particular weekend, I can say nothing but Divine Intervention was most surely at work. With so many details that I need to cover, I have little free time to aim the 31" and the fellow who was to be here had to work. So Who brought Tom here? You decide.

His 30" scope was at our disposal.

Amidst much laughter, the evening passed far too quickly. When Jerry arrived, he got the sound system ready to go, and even though he had to return to work, spent several hours touring our friends at the 31" as well. What an incredible night! The weather got cold and we were all chillin', but it was such a good time! We even had our guest speaker, Barb Hubal in on this! At one point, I used my cell phone to good advantage and ordered a pile of pizzas and a case of soda. They wouldn't deliver - but I will! We sat in the ClubHouse, ate until we couldn't hold anymore, and went back out to walk amoungst the stars.

Around about that time, one of our guests of honor arrived and I can't tell you what a pleasure it was to meet Brent Archinal. This man has so many credits tagged onto his name that I was afraid that a nobody like me would look pretty foolish trying to talk to him. Wrongo. The moment he smiled, I saw one of the most honest and genuine people I've ever met and he's just as familiar with this place as I am! Brent? Rock on, brother... The place is yours.

At 4:00 a.m. after countless deep sky objects, I knew I had to be back in hours so it was time for me to get some shut eye, right? Nope. Instead Tom and I headed to our local burgery and had us a fine dinner before we retired! With just three hours to go before registration opened, I managed a little sleep and woke up happy and ready to go.

Now it really is Friday. Grabbing some coffee and danish, I peeled Terry off the ClubHouse sofa and we got the day underway. We finished stuffing our registration packets with last minute things and created 30 new ones for last minute guests - at the last minute! We really had a terrific time talking and joking with one another. When Terry was comfortable with what was going on, I sneaked away. Love ya'.... But I've got to have a shower!

When I got back, other members had arrived to help and just that quick signs were set up to help direct our guests and the curtains hung in the speaker hall. Folks had already began to arrive and were off to claim their cabins and observing areas. The hours passed so fast getting everyone going that somewhere along the line I totally forgot that I was hungry and sleepy. With one more phone call, I was smiling again as Vic said he was on his way. At one point I looked up with a big smile on my face as I thought I had caught him, but found out quickly that it was Steve O'Meara! What a great guy...

By darkfall, most of our guests that were arriving today were here and we were ready to go lights out and I was also ready to go and talk with some of our guests. I had barely a chance to speak with Jason Shinn and Rick Schrantz, as well as many others whom I was looking forward to meeting.

Walking around in the dark was easy enough here because I at least know the way. I stopped here and there, making sure our guests had everything they needed and talking with many folks whom I was just meeting for the first time. I found Robert and Carl at last and was enjoying visiting with them when somebody grabbed me from behind!

Dang, doc... I thought I'd never find you. ;)

Giggling like a little school girl, we went here there and everywhere enjoying what was going on. Whenever this fellow is around? I have a good time. At one point, I was curious as to what was in the big scope so we went up to check it out. What can I say? You should see Mars in a pair of binoviewers. I froze into place and couldn't move. It looked like you could just reach your hand right out and wrap it around this ball of details. The more you watched? The more you saw. I can't remember the last time that I wanted my sketch book so badly!!

I finally did get out of the way and allow Vic a turn as well. I had a couple of requests for Bruce since I haven't had the opportunity to use the 31" since it had been recoated and he honored them. First off? NGC 7331...

Just like Mars, it looked like a picture. Such galactic perfection and that dust lane just smacks right out. Looking into the side of the eyepiece barrel, I started grinning because I could see a little group of galaxies and I was itchin' for Stephan's Quintet. Giving the scope over to Vic for awhile, I waited again and was going to move it to the galaxy group when Bruce explained that those weren't the Quints I was seeing! HUH?! He pointed out that this was another group of mag 17ish little buggers and all my mind's eye could see was that they looked alot like the Quints in my 12.5".

Then he moved the scope.

Holy mother of pearl. Where I have seen little nucleii and somtimes a hint of struture, there is now a writhing mass of galaxies that look like swimming tadpoles with their tails all curled around each other. It blew me away. I was really trying not to babble... And I doubt I said a word. But there was stuff there... Stuff there, folks, that I have never seen visually in my life!!!

Going back down to the ground, I was almost dizzy with what I had seen. Vic and I talked for awhile and looked through a couple of other scopes when I heard Bruce yell, "Tam? Abell's up." And I was back. Again, it's no great secret that I have devoted years of my life to studying the Perseus A galaxy cluster with a 12.5" telescope and working very hard at identifyng what can be seen. I've even used the 31" scope as well and now I'm here to tell you that the resurfacing the mirror made at least a magnitude or more difference in what can be seen. I was deeply and totally in love. At this point, I could hear or feel nothing. My mind was totally consumed with what I was seeing in the eyepiece and my hands ached for my notes. So many!! So many that I have never seen before and in such incredible detail that I could have called the structure shots in a heartbeat!

And beating my heart was... Slowly I came round, quit moving the scope and realized that I had not allowed my partner in crime a view as well. Apologizing, I moved out of the way and my head was just swimming with galaxies. When we went back down to the ground it swam even more as we visited with all the nice folks and saw everything you could possibly think of.

Around 4:00 - 4:30 a.m., I realized that I had to be back again in hours for both registration and to announce our guest speakers as well as deal with questions. I really did not want to leave, but I knew I had to. As soon as I hit that motel room door, I left a trail of clothes to the bed and was asleep in seconds.

When the wake-up call came less than three hours later, I hit the ground running. A fast shower, a little makeup and I'm good to go. Arriving in plenty of time, I left registration in Dave's capable hands and was off to start our programs for the day. When I walked up, I caught a sleepy face across the crowd and felt myself smiling again. Giving a wave, it was time for me to introduce our first guest speaker and find our next! Once Barb was off and running, there was a bit of a worry as I hadn't found Nate yet. I knew he would be there... But where? After a couple of anxious minutes, it was my great pleasure to make the accquaintance of Nate Cardarelli and have the opportunity to listen to him speak!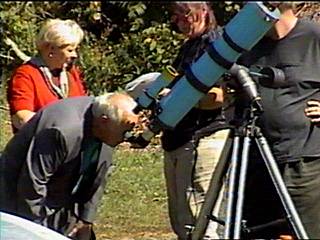 We took a short break before Jason and the Radio JOVE program began, and I wanted to show Nate the observatory. As luck would have it, I got the opportunity to catch both he and his wife along with Barb Hubal and her husband in ths shot while Nate had the opportunity to have a look at the Sun in H-alpha. Two very nice prominences were in view and I cannot thank Barb enough for bring along her equipment, nor can I thank Nate enough for having the whole audience laughing at his antics! What a very special day...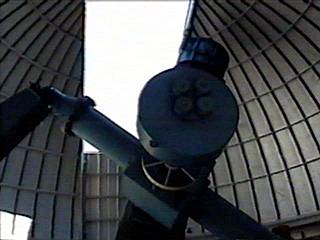 When I walked past the dome, Bruce had things open and just shining. He and a couple of other club members were taking care of some last minute things that needed to be fixed and I checked in at the ClubHouse before heading back for the next speaker. Everything is in capable hands and we are good to go.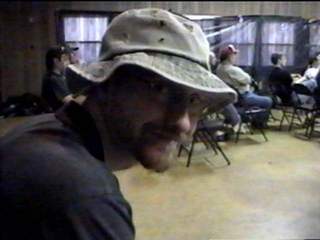 This is a rather candid shot of Jason, but I'm here to tell you that this is one sharp young man. As he went through his program, I watched the faces around me and everyone was on the edge of their seats listening to not only what he had to say - but to what Radio JOVE can do as well. There wasn't a straight face in the house when he told us about how the last big X class flare brought him out of the shower! He did a tremendous job and everyone was fascinated with the programmed computers he had left running in the Mohican Lodge. This is an awesome program and Jason is one of their finest representatives!

While we take a short break, I start thinking about you, Mr. Wizard... And wishing how much you could have been here. It's been a long and winding road that we both have shared, and how I wish I could have shared this with you!! Don't stay away next time... Please?

The minutes fly and as soon as things are ready to go again... Let's rock!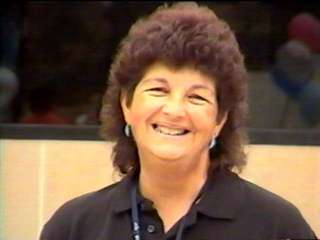 This lovely lady you have seen before. Terry knew that I hadn't had a chance to eat or even be off my feet for almost two days, and she is my total rock. Every single time I thought I was stumbling, I would look up and see her smiling my way. So without further ado, I left the audience in the very wonderful hands of Terry Mann and sneaked around the curtain to get a shot of her. (hey, terry? i still like this one best... ;) When she's rolling with the aurora program, I head out front to grab a sandwich and a coke, but don't even get a chance to sit down before I spill it all over myself! Once a klutz? Always a klutz. Mopping myself up, I swallow my sandwich whole and we're off to introduce Brent.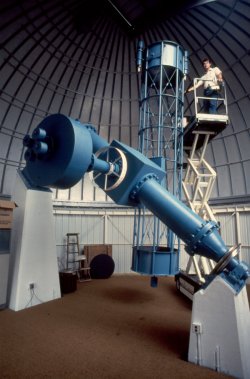 Brent Archinal begins telling about his work, and I'm smiling while I'm drying. What a great guy! Terry is beside me and we are both laughing at a Hershey High. Everybody is captured by what he's saying and then? Out of nowhere the camp generator decides it's time to cycle up and I can't hear him! Ducking out, I went in search of our sound man - but can't find him! Heading back in, I remember watching while he set things up and a couple of power squeals that would do a heavy metal band justice later, Jason and I had it to where you could hear him and I took off to see if we couldn't cut the generator. Somewhere in all the fracus, I didn't get a chance to take a picture of Brent, so I hope Bob Bunge (a one time member) will forgive me for using his. This is one of the best that I've ever seen of Brent and as you can see, he's quite familiar with the scope!

Wonder why? ;)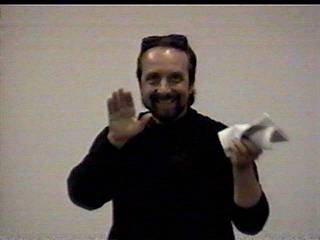 Now everything is quiet again and it's time to introduce the legendary Stephen James O'Meara. His talk had everyone laughing, including me! It was all about truly observing and for the last two days I had been observing Steve. Not only is the man a legend, but he is one of the nicest, kindest, most interesting people I have ever met. If you have a chance to talk with him, he gives you his undivided attention and makes you feel like you are one of the most special people in the world. Needless to say, he was 100% part of everything going on and he brought back magic to everything and everyone he touched. For you, Steve 'O? Anything... We cannot thank you enough for being who you are.

Now comes the time for me to say something. At this point, nothing that I had written was going to compare with what was in my heart so I laid down my notes and spoke. The article written about Hidden Hollow by Phil Harrington had just broke today in the latest issue of Astronomy Magazine, and again, it felt like Divine Intervention was present. I tried my best not to cry as I looked at the audience. We owe a debt of gratitude to our club members for helping to get things ready, and before me are the very people who made it all possible. Without our guest speakers, our vendors, the fantastic people who donated prizes and the unfailing generousity and support of the people in front of me - none of this could have happened. I hope for once that what was in my heart came out of my mouth.

When I am done, it is now time for the prizes and handfuls of tickets are waiting. The most fair person in the world, Joe, is right beside me and he draws the winning tickets. How wonderful it is to give away all of these terrific things!! And our new friend Jerry.... is pure kid luck. ;)

As things wrap up, Rick Schrantz is giving another astrophoto workshop thanks to public demand. Folks were very impressed with his presentation, but as much as I'd like to watch, I've got some duties I have to attend to. Tired? Yeah. It was catching up with me in a big way. I knew that so little sleep had to have my blood pressure higher than the PSI in a Craftsman air compressor, so I just eventually locked things up, grabbed Jason and made a run for the border. I grabbed my coat, swallowed my pills, and again thought of Mr. Wizard while I at least talked him into Taco Bell! It was great to learn we had so much in common, and by the time we got back, it was getting dark.

Time for me to let my hair down.

Once everything was good to go redlight, I headed straight towards a telescope in the observing field. He wasn't there, but I knew he wasn't going to get mad if I used his eyepieces or his scope. I played around for awhile, and it wasn't long until Vic was back and the 12.5" Discovery dob was handed back over to his capable hands. Name it? We went there. For hours we had a wonderful time just really observing and enjoying the sky. Later we were off to visit more folks and telescopes, and everybody knows Doc.

Party? You betcha'. The pressure was off and this is the first time I have felt so relaxed in days. It felt so good just to leave everything up to him and follow along. If we need something? I know where to find it. If I need something? He knows where to find it. The hours passed so fast!! We enjoyed incomparable views of Mars through the 31" and spent a great deal of time with Tom and his 30". I am so proud of Vic, because he's so daggone smart! I could hang around this dude forever. Be it viewing the "Horsehead" with new friends from the CAS, or taking the lift up to the eyepiece for the M42. There's very few people who can make me smile like this guy does.

It's nearing dawn and Brent catches me before he leaves and asks if I'd like to go out for breakfast. Darn right I would. I'm not driving back to the motel tonight, but you can bet you Phd that I'll be there! Inviting others to join us as well, I am very reluctant for the night to end. I really don't want to say goodnight for fear it is goodbye for another year... But sleep catches up with me and it's my turn to take the ClubHouse sofa.

Three hours later, I'm up and ticking like a Timex watch. Other members are arriving to help with clean-up and I gotta' head back for a shower, close my motel room and meet Brent. Did I make it? Of course. I may be very little in my life, but if I tell you I will be there, I will. Brent and I sat outside talking for awhile. Sometimes I wish I could get over my shyness (yep. me.) and ask him all the things I wanted to know, but it's not long until other join us. The conversation doesn't go over my head, (very little does, and if it did? i would ask what the heck you were talking about) but I somehow feel a little out of place... But ya' know what? I'm just proud as punch to be sitting next to Brent!!

As we say our final goodbyes, I realize I must return and make sure everything is taken care of and help with what isn't. As I look out over the hills, I hope someone is still there so I may say goodbye... And there he is. Doc? You make me smile and I cannot thank you enough for taking the time to find me again.

Brille sur.

When I return for the last time, it is to say goodbye to the very last of our guests. I am glad that Tom is still here, because Someone guided his way here for many resaons. When the camp is quiet once again, you cannot even tell we have been here. Things were a fantastic success, and how very much I wish you were here. I have met so many wonderful people in the last four days and had the time of my life. I follow Tom back to the highway where he goes north and I go south. We wave as we part our separate ways once again. There has only been one other time in my life when I was so willing to stay up all night and greet the morning of the coming days...

The time I spent with you.


"When you see the Southern Cross for the first time....  You understand now why you came this way. 'Cause the truth you might be runnin' from is so small... But it's as big as the promise, the promise of a comin' day. So I'm sailing for tomorrow, my dreams are a dyin'. And my love is an anchor tied to you, tied with a silver chain... I have my ship, and all its flags are a flyin'. It's all that I have left, and Music is its name.

Think about.

Think about how many times I have fallen. Spirits are using me, Larger voices callin'. What Heaven brought you and me... Cannot be forgotten.

And I have been around the world... Still that woman-girl....  Who knows love can endure. And you know it will. 

And you know it will...."