---

April 28, 2006 - The Sun, the Bootids and 73/P Schwassmann-Wachmann C...

Comments: For the last two days I've been on the edge of my seat watching RadioJove activity with the latest solar "hot spot". After what seems like a long, dry spell the Sun has been kicking up a real fuss and shooting off C-class flares that are hammering radio frequencies. Of course, you know I've gotta' go have a look!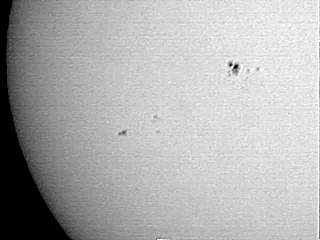 Rather than mess with a mirror to watch the indoor A/V equipment for a color image, I opted just to plop my little monitor down right by the scope and feed the line straight in. For more than a half hour I tracked AR875 and I am duly impressed. While it's far from the largest I've ever seen and recorded, the central umbra just seems to go beyond black. Even though I would continue to tweak the focus and shift the image to another point on the CCD chip, no matter what I did would draw follow-up spots AR876 into clean view. They seem to be only penumbra with one small immature umbra! Is the magnetic activity here??

Oh, yeah...


Of course, study means study... So I went to the synoptic images. If you compare the two, you can see where magnetic energy effects what can be seen in white light. I can see where the heaviest concentrations in terms of gauss produce visual anomalies and I've also got my own pet theories as to why some areas appear differently than others. Of course, these are only the musings of someone who observes...

And speaking of observing, relatively clear skies meant I had my carcass in the old redwood chair later that night to keep watch on the Bootids. The average limiting magnitude was only around 5 and the lower skies were pretty much trash. Although it might look "clear", the clarity wasn't and anyone who scopes knows what I'm talking about. Good enough for the bright stuff, but superfaint studies would be tough. Before I deviate from the topic, in three hours of observation I only caught five very fast and faint meteors that could be attributed to the Bootes radiant. Far below estimated levels...

Of course, sitting in a comfy chair wrapped in a blanket and drinking a beer during a low activity meteor shower also means you've got time to get a little bored and start wondering about things. Don't get me wrong - I think one of the coolest things you can do is just to sit still and watch the great dome of the sky turn over your head... But... But... When Corona Borealis starts getting high enough to be curious about a certain comet... Well... One starts wondering why one didn't bring a pair of binoculars along.

And one remedies it.

There is no doubt whatsoever that comet 73/P Schwassmann-Wachmann (component C) is very, very visible under average sky conditions to small binoculars. The 5x30's picked it right up, and the 16x50's slammed it. It only took me all of about five seconds to find it and the coma was extended nearly to the point where it included Xi CorBor. My best guess (which is poor for binoculars) is that the nucleus is coming in at least around magnitude 6.5. The skies were too trashy to get a good handle on the length of the tail, but my guess would be no less than 30'.

Part of me would really like to go fetch the scope out and have closer look, but I also know that I've pretty much reached my limits of physical activity for the day. Laying my binoculars down on my lap, I started feeling sorry for myself because it doesn't seem like it's been all that long ago that I would have been up off this chair in a heartbeat and getting the scope back out. About one more beer and one more meteor was all it took to realize that I haven't got a thing to be ashamed of, you know? There's folks out there who are probably inside watching television when they could be outside watching a comet and the remains of one burning up in the atmosphere!

And so I pick the big binoculars back up again. Who can feel lonely and sorry for themselves when the M5, M3, M13, M92, DoDz9, M81, M82, M51, M65, M66, M67, M44, Mel 111, M85, M88, M64, M63, M104, M84, M89, M87, M61, M49 and Jupiter are here to keep you company, eh?

Not me, baby...


"Drink myself of new found pity... Sit alone in the same old city and I don't know why.

So I walked up on high... And I stepped to the edge... To see my world below. And I laughed to myself... As the tears rolled down. Cuz' it's the world I know...

It's the world I know."