---

July 15, 2006 - At Hoover Price Planetarium... Swimming In Stars....

Comments: Sometimes things work out - and sometimes they don't. Two weeks ago I had planned on visiting Hoover Price Planetarium at the McKinley Museum of Natural History in Canton, and unfortunately I was simply unable to make the drive. Thankfully the new drug regime has really helped and my friend Jason extended the invitaiton again for today and I am very happy to join him!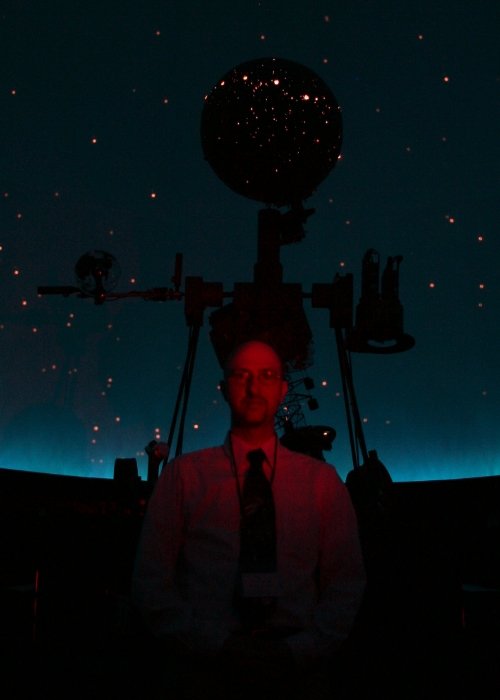 Jason is really a dynamic and great young man. We had first met through the RadioJOVE program and I was delighted to have someone fairly nearby here in Ohio who also enjoyed radio astronomy. But, like myself, Jason is much more than just that. He's also a very active member of the Akron Astronomy Club, loves to do public presentations, and is now also working at the Hoover Price Planetarium. On a personal level, we also connect very well because we share the same basic occupation as well as our love of all things astro!

We start our tour with visiting the McKinley Memorial and then it's time to head inside as Jason introduces me into exactly how a planetarium works. What a control panel! It is really a very unique experience and although I have seen many planetariums, this is my very first opportunity to have a chance to see what makes all these things work. You can't believe all the incredible amount of cameras, switches, dials, etc. goes into even the simplest of presentations!

Very soon, the audience arrives and it's time for me to kick back and enjoy the show. I hope my presence isn't making Jason nervous and it doesn't take long until he just incorporates me into the program as well. What an honour! As I look above to the high domed projection screen of space, I realize just how great the hobby of astronomy truly is and how many wonderful people that I have met through it. It's great to be able to be part of the program.

Afterwards, Jason takes me on a tour of the museum itself and it is a terrific place. For those of you in Ohio who are old enough to remember COSI back when, then you are in touch with the Canton Museum. Everything from dinosaurs through science is represented - along with a great look at yesteryear. When we are finished, invitations to the staff to visit at WRO are forthcoming and I am sure glad that he invited me out to dinner because I really don't want our visit to end.

All too soon, it's time to head back my own way. I will see Jason again in just a few weeks as he will be one of our honored guest speakers at the Hidden Hollow Star Party and I look forward to our continued friendship and cooperation between all our various public outreach efforts. I had a great time!

And speaking of friends, it has also been wonderful to talk to Brent Archinal. Right now he is also in Ohio visiting with family and we are about to get together at the Observatory and spend the evening together. Since weather is chancey at best, we left the date open and there is a fair share of clouds tonight at sunset. I know my friends with Astronomy For Youth are also gathering tonight at Malibar Farms, but I am also aware of how quickly I tire right now. Reluctantly, I take a pass on another two hour drive and decide it's probably just best for me to head out to the pool and chill for awhile.

Just after nightfall, the skies weren't the best. But, the longer I was out, the more and more clear it became. I watched from the pool as an outstanding iridium flare occurred and an unconfirmed pass of either the ISS or Discovery. Even without my glasses, there was no mistaking the billows of the Milky Way and finally I just caved in. I gotta' see!

The doctor prescribes rest as well as drug therapy, so for me there is no taking the telescope out tonight because I know that I would end up overdoing despite myself.... But there's no harm in binoculars, is there? At least I make very sure to find a place to stabilize myself and I severly limit my time. When the upper reaches of Telescopium and Corona Australis are visible, you can't help yourself, ok? Besides, the pickings are so rich between Cynus down through Scorpius and Sagittarius that even the shortest amount of time with the sky rewards the eye! M4, M80, M10, M12, M19, M62, M14, M25, M24, M8, M16, M17, M6, M7, M11, Brocchi's Cluster, M27, a tiny M56 and M57, M29, M39, M13... Not to mention those great NGC opens!

After about 30 minutes, I made myself stop. It has been a fantastic day and I have enjoyed every second of it. It was wonderful to see my friend Jason again and I even got to enjoy the stars!

I like this feeling...


"I'm the one in your soul... Reflecting inner light. Protect the ones who hold you.... Cradling your inner child."