---

May 24 - 26 - Enjoying Retreat...

Comments: After such a busy day, it certainly wasn't hard for either one of us to sleep rather soundly. What does it matter what time we get up? We are, after all, on retreat and resting the old brain cells after months and months of work is what it's all about. Yeah, it's hard to get up to a kitchen that smells like basil gnocchi....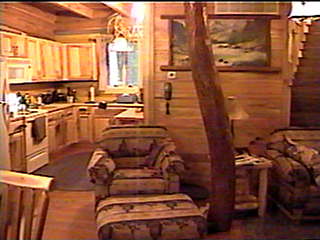 Not too long after I had my first cup of coffee it was time for this old kid to do one of the things I love most besides astronomy - gourmet cooking. As you can see from this great kitchen, everything I could ask for was right there... But then I have a "thing" about my own special pans (the right tool for the right job, you know... ;) and my big box of various spices and seasonings. While my sleepy colleague woke up and grumbled around at having some strangler rattling pans in the kitchen, once the good smells started he wasn't too hard to convice! Ah, yes... The power of a fresh fruit salad, bacon, and a proscuitto, chive and cheddar omlette....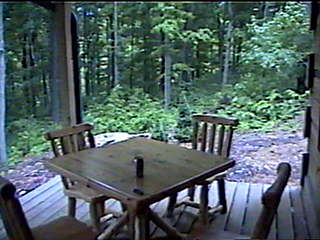 Of course, it was equally hard to convince ourselves to take it to the great covered porch and park ourselves at a table in the woods to enjoy the wildlife while eating. Needless to say the curious red-headed woodpeckers were our constant companions over the days, meals and planning sessions ahead and there is just something very nice about dawdling over morning coffee while you watch swallowtail butterflies play in the greenery. As you can tell, it's rough being here and the inviting porch swing not far away also saw it's share of use as we pondered everything from upcoming manuscripts to the meaning of life.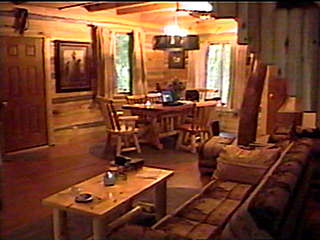 Of course, we are what we are and somehow a computer had followed me along on the journey. The dining room table soon held more than just food as we turned it into the "nerve central" of our working area - even though neither one of us was exactly working very hard. A little analog magic and soon enough we were able to access the internet and whenever the mood struck either one of us could just sit right down and work on any phase at a time... But who's into working when all this is here?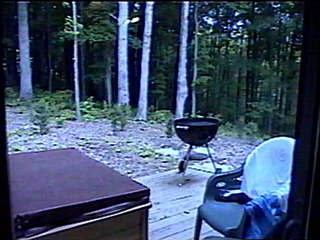 By late afternoon the grill had already seen use and once corriander chicken, pico de gailo and rice had been consumed it was time to peruse that hot tub that was just a step outside the door. It was really a trip for me, because my own spa is inside the house and it just seems so strange to be able to be outside and look and trees and sky while I'm in it! While it felt kind of unprotected because I'm used to having walls around me, it didn't take long for the hot water and good food to work it's magic and we both found ourselves ready for a little more much needed rest.

Although the best laid plans of mice and men included one of my own telescopes and a few nights of adventure across the expanse of the early summer cosmos, the weather quite changed our plans. Again, it is not so rough, my friends, to be inside a comfy, well-appointed log cabin during a storm... Or even outside on the porch sitting in the swing and watching the heavens throw thunderbolts and sway the slim trees. Yeah. It's hard to have dilled salmon and fresh asparagus...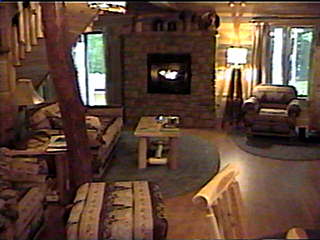 Just inside the door is the comfort of a well-appointed living room with every channel you could wish on the television... But again, the storms changed plans. My friend had known that I had called the TV on Wednesday night to watch my "Ghost Hunters" program and although he was willing... The lightning said otherwise. So what's a writer and editor to do? Why... Play Scrabble, of course! If you ever want to see a real head-to-head competiton on a game with words, the ultimate has got to be Scrabble. And when you put a writer and an editor together over a Scrabble game? You get a very close competition and the editor wins!!

He always does... ;)

No problem. When the hour grows late, we simply chose to watch a movie for neither one of us has seen "Hitchhiker's Guide To The Galaxy". It was a bit silly, but not hard to take after a fine supper of salisbury steak and a generous portion of stuffed mushrooms as a snack. And although the skies never did clear off that night...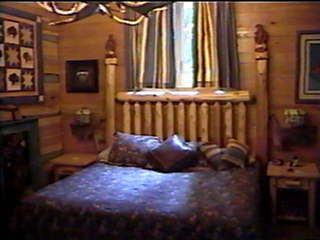 This beautiful 5-acre bed has my name on it and it certainly didn't take long for me to find the land of sleep and dreams once again. Again, I felt so spoiled and almost lost... But my head is to the east where it always sleeps, and at one point I woke up with my head to the south and I wasn't even hanging over the edges! My word... You could put seven people in this bed and they wouldn't even fight over the football field sized blanket, ok?


Not that you'd actually get cold or anything, because this room is so large I couldn't show it all in four pictures and there is a splendid remote controlled fireplace in one corner! Yeah. Spoiled. Remote control! Both my friend and I heat with wood and do you know just how tough it is to push a button and see flame? Holy cow. You know, I'm used to carrying in logs and kindling... And here all I have to do is push a button! How spoiled is that?!

And the next day brings on more wonderful sleeping, more equally wonderful eating with homemade sausage gravy, biscuits, fruit salad and an opportunity to explore the grounds. But not, of course, until either one of us feels like actually putting on shoes or anything. We have our own private lake nearby, along with our own private rowboat and a picnic ground. Although both of us are long past our mountain goat youth, we still enjoy the hike and equally enjoy just sitting in the woods and talking. It's a very warm day and the skies look quite promising. Before we went exploring, we had talked with the owners of the property and located a perfect spot to set up the telescope and were looking highly forward to spending an evening of our own hitchhiking across the galaxy...

And then the lightning changed our minds.

Well, then! Apparently this just isn't to be then, is it? That's really no problem, because I'm having a grand time working on outlines, research and simply digging on the scenery and comfort. While my colleague "rests his eyes", I find myself putting Chevelle in the CD player and my old, achy body back in the hot tub. When done, I had to sneak away, because you have got to see more of this place!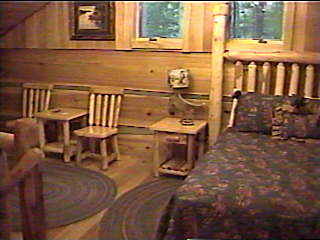 This is just one small portion of one of the upstairs rooms. At the other end was gamer's paradise, but since neither one of us does video games, it really didn't matter. Behind me is the master suite of the upstairs which is equally beautiful and larger with its own bathroom and sitting area, but privacy is privacy... And although I did film it for memories sake, I am waiting on my friend to come up with $500 before I begin posting pictures of it on my personal website. You know, blackmail does have it's advantages...

"I don't care what you say! I have to have 1,500 more words for that article and be able to use a few more descriptors or else I'm going to show the whole world your room!"

Think it will work?

Although we both waited patiently for the rain to stop and the skies to clear so we could enjoy telescoping, it didn't look like it was going to happen anytime soon. No problem. We can sit right here at the table, continue to work while we consume shrimp cocktail and then treat ourselves to prime rib, loaded baked potatoes and a garden salad. After we had stuffed again, he went off to find his own privacy and I went off to find a cooler of beer and the hot tub again. Even though it is still raining a bit, what difference does it make? It's all good... At least the lightning has stopped.

And then while we were sitting on the porch a bit later contemplating life again, a very close bolt sent me to my feet and back inside. A few seconds later? Out with the power. But no need to worry. It came back on again and we decided we'd just make a batch of "Tarkany's Famous Nachos" and watch "Signs". Part of the way into the movie, I don't know what possessed me, but I had this sudden urge to get up and go look at the sky. It's like a calling and the calling and feeling are good ones...

Clear skies!!

Although in the heart of the woods is not an ideal place to set up a scope, astronomy at a moment's notice means binoculars and we both were armed and ready to go. Laser pointer handy, I showed the way to some of the summer's finest but straight overhead means that my associate was soon feeling like he'd been the one drinking a beer! (saves money, dude... just walk around looking straight up for 30 minutes or so... ;) I thought about getting the scope assembled and ready to go, but at 2:00 a.m. on an otherwise rainy night, this was just a freak hole and we're just a couple of freaks enjoying it!

By the time we had returned inside and finished the movie, I was already happily dozing off. While he secured things, I remember vaguely shutting my door and tossing myself onto the bed and not much else until dawn began peeking into the windows. Even though we have to leave in hours, there is still plenty of time to make another hearty breakfast and enjoy each other's company for awhile. And, oddly enough, it didn't take long to throw our things back together and be ready to roll again.

As I took my friend back to his home, we made one final stop on our leg of the journey... And that was the local Harley Davidson dealer. I guess he needed to see the other side of what I am, and I needed a T-shirt! And all too soon... We hug goodbye.

The trip home was just that. Around Indy was't so bad, even though the race fans were arriving. I did well through Dayton, but hit Columbus at Friday night rush hour. It's alright, though... I guess everyone but me is used to 90 minutes on the 270 outerbelt, eh? You couldn't pay me to live in a town this size! And the rest?

Is history.


"Promises of what I seemed to be... Only watched the time go by."