---

October 19-22, 2006 - At the Observatory: Hidden Hollow....

Comments: It's that time again. There's more than just a hint of Fall in the air and the last few days have been spent at the Observatory cleaning things up and doing a bit of TLC to prepare us for our annual "Hidden Hollow Star Party"!

By the time Thursday arrived, I was wired for sound and very ready to spend several days amoungst my friends at a place where I feel at home. We had all pitched in a helping hand and by late afternoon the whole place was very ready for a star party to happen. And what changes have been made!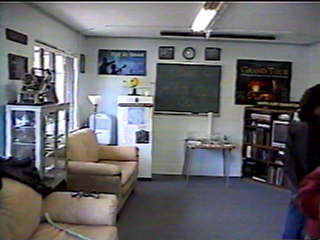 One of the nicest things to happen in a very long time is the complete restoration of our ClubHouse. It's one of those things where you'd really have to know the place to understand just how badly in need of repair things were... And how wonderful they look now. It's really great to have a place that we can all be extremely proud of - one that feels like a "home away from home".

When everything has been done, the whole group of us invade the local Cracker Barrel. What a wonderful time! I don't think any of us stopping laughing and it felt so good to unwind amoungst friends. When we got back to the ClubHouse, more were waiting. See what happens if you don't lock the door? The MVAS wanders in!!

Although the night was cloudy and colder than I really want to remember, that didn't stop our happy group and we partied in our own fashion until the wee hours. Terry and I had opted to share the Mohican Lodge with its two private rooms and baths. I thought I was brave and didn't build a fire in the fireplace that night... And it's a wonder that both of us were able to move the next morning. When it gets cold and windy in Ohio... It gets cold and windy.

By the next morning, we both managed to drag ourselves back to the ClubHouse and start the coffee. Little by little, folks were wandering in and it felt very good to have everything so well organized and ready to go. Although it was still cloudy and misting rain, the forecast for the night was very promising and by the time the scopes began to arrive the skies had cleared.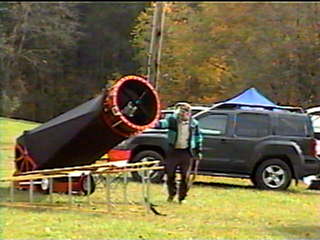 One of our first guests was here and this time he didn't need a pair or socks to enter... Just that big ol' 30" scope he loves bringing around! Howdy, Tom! It's great to see you again, my friend... And good to know that you have made the trip safely. As we direct people here and there to get them acquainted with where things are at, where to set up an RV or grab a bunkhouse, more and more friends are coming in.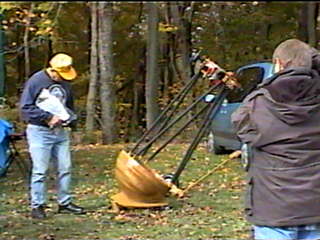 One of the first places I got called over to was also a voice I knew in the dark. He had completed his 16" portaball and I was blown away by the handcrafted wood. (and later i was quite blown away by the precision with which the mirror had been ground as well. even at low magnification, the third companion to almach was easily split.) What a great scope! As we point guests in the right direction, they take advantage of the workshops that started early in the Sky High Lodge and night soon falls.

Looking through this scope and that one, the hours seems to pass so quickly and I didn't even realize I hadn't eaten until I heard my stomach growling loudly. Deciding a bowl of chili was quite in order, I trucked down the lane and was happily grabbing some chow when I got the surprise of my life... Vic! Ah, man... It just wouldn't be a star party without the Doc and I am so glad he had an opportunity (even if it was just for a very short time) to join us. Forgetting all about food, we walked back down to where Tom had set up. Unbeknownst to him, Tom commented that he wished Vic had made it this year and he was just as equally surprised to find out he was here! We all love the Doc...

Once in awhile the clouds would pass through, but they'd leave quick enough. Long about the 2:30 hour, the cold came back with a vengence and I'd keep slipping back into Mohican Lodge to throw a few more logs on the fire. Of course, others had found the fire, too! Curious as to what was in the 31", Vic and I went back up to the observing platform and the Orionid meteors were just slamming the sky. We looked at a few choice objects in Big Blue, but ended up finding a seat to watch the shooting stars. Although I won't bore you with details as to what, when, how bright, how long, etc. it was a great two hours as we huddled under blankets and watched until we got shut down by clouds.

Making sure things were secure, I stepped into the ClubHouse and therein made an error. Daggone, but it was warm! A gentleman had fallen asleep on one of the sofas and I can't say as how I blame him. One look at Vic and we both had the same thought. You take that half of the floor and I'll take this half. I don't mind your snoring if you don't mind mine and just don't step on me if ya' gotta' get up. It only seemed like a few minutes later when the dawn arrived and people began wandering back in. Hey... As long as you're here, grab that coffee pot and get me some water!

The best part of waking up is Folgers in your cup, dude...

Not long after, the sun began to shine and the party went into full swing again. More folks were arriving - along with working club members - and it was time for this old kid to snag a hot shower, put on some respectable duds and go announce our guest speakers. As I walked down towards Sky High Lodge, I was totally taken by the view...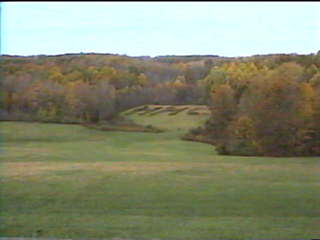 The sunlight graced the trees and every beautiful color you can imagine had come out. The area of the big lodge is just beautiful and it looks down on the olympic sized pool, tennis courts, and this lovely bit about half a mile away carved from the very trees themselves. Although I might have joked about renaming us "Hinckely Hollow" from all the turkey buzzards who circled above us while in migration, the view goes beyond outstanding.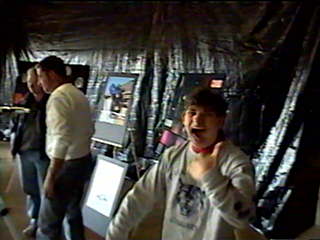 Just as I came in the door into the area where the activity was at, I met my friend Jerry. After our customary hug, I asked him if he was having a good time, and as you can see he most certainly was! And he wasn't the only one... All around were happy tables full of people. Talk, laughter, conversations, and anything you can think of was here... And there, too!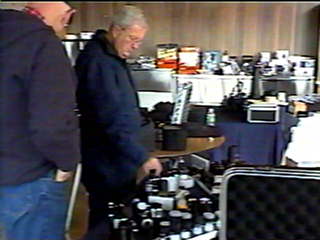 What did we have to enjoy? Why you name it. Smart Astronomy and Tech 2000 had joined us this year as vendors, and with the wide open spaces and beautiful backdrop of the mountains outside the windows, people were happily going through the vendor's goods. The atmosphere was just wonderful and I could tell by the faces around me that everyone was having fun.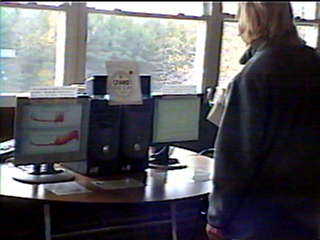 Jason Shinn and Mark has set up a live demonstration this year of Radio JOVE. While this might not be some folks cup of tea, for others this was the living end. Just below the windows you could see the dipole arrangement and two screens were running programs... one following the Milky Way continuum and the other monitoring solar activity. People were fascinated and it wasn't often you could catch the display open enough to even photograph it!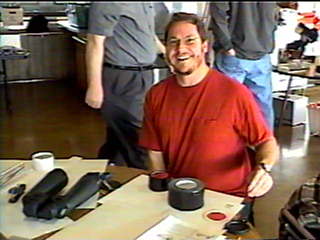 Wanna' see some really happy faces? Then just take a look see at the many tables set up giving a free "make and take" solar filter workshop! I can't thank Barb and Ken enough for the wonderful idea and almost every single person that attended this weekend left with their custom made Baader filter - be it for a 12" or a pair of binoculars! This was something that really made the people happy and we're so glad they are!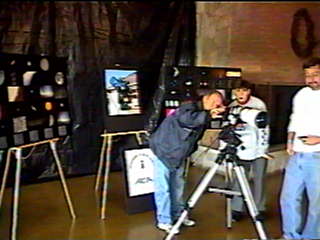 Not enough? Then feast your eyes on amateur astrophotography that I defy you to call amateur. Rick S. had joined us again this year as well, and Jason had brought along a display from the members of the AAC as well. Do you think you're good at identifying objects? Then have a look at the contest and see if you can name that NGC... Or Sharpless object! There's a prize waiting at the end... ;)

Our guest speakers were also fantastic! Along with both Barb and Jason's presentations, we also had Terry Mann from the Astro League, Brent Archinal, Rick S. on imaging and Tom W. gave a great "chalk talk"!

Are you ready for prizes???

Each year we genuinely sweat being able to afford to give the Star Party, and each year our visitors come through with their unselfish amount of money they donate toward the prize raffle. As Joe and I set about annoucing the winners, I told the audience they should email our member Dave with a get well. Unfortunately, he had bronchitis very bad and was unable to attend. Like magic, he called during the raffle and the whole crowd got to wish him well! Not only that... But he won a prize only minutes later! What fun it is to watch people win... Our own club members who have worked so hard to pull this together and our friends who have donated. It was great to see both Johns and Joe with a prize... I could have cried I was so happy when I won the green laser.. but the pi'ece de resistance?

Terry McQ won the grand prize!!

All these years of being skunked and the kid did it!!

Everyone left very happy and very, very few left with nothing in their hands. There were plenty of extra posters and hey! A solar filter sure isn't anything to sneeze at either!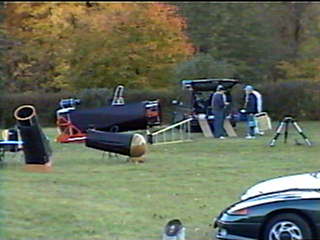 With the Sun still out to enjoy those filters, the scopes began to sprout like mushrooms. Terry Mann had kidnapped me for dinner and it felt very good indeed just to go someplace quiet for awhile and wind down. By the time we made it back and I had changed, it was off to the observing field to enjoy the view through the many scopes. As we were watching the sky, I watched what looked like a beam of light coming up from the west. I yelled at everyone to look because it was a total 360 arc and it just looked weird to me. I was told it was a contrail, so I let it go a that. I stepped back in to put another couple of logs on the fire and as I walked out my cell phone rang. It was Terry M. at the motel who told me Kansas City was experiencing a level 10 geomagnetic display and the second she said that I knew that wasn't a damn contrail...

That was AURORA!

Back out, I put out the call and many of us saw the glowing green clouds and vertical banding. Some folks will never get it, and I feel sorry for them. Not every aurora looks like a picture, but clouds do not glow green and move contrary to the prevailing winds. It didn't last, but it sure was fine!

And them clear skies didn't last long either. Around midnight the skies began shutting down. People who had traveled for a long ways had began to pack up and although it was kinda' sad, I understand. Some of us stay on for awhile longer to talk and watch videos. I put a couple more logs on the fire and Terry McQ and I sleep far warmer in the deep reaches of Mohican Lodge. Snoring is heard from the shadows lighted by the dancing flames and not much longer away, I join them.

The next morning is also damp and rainy... But no matter. Dressed in rag tag whatever was warm and dry, I opened the ClubHouse for coffee and visited with the last of our guests. I had asked for their comments and ideas and came away with a lot of great feedback. As the last of them leave, our members arrive and in short order we are cleaned up and finished again for the year. When I find my keys at last, it's time to join the Archinals and others for breakfast, then back to reality. Regardless of the toll taken...

I had one helluva' great time!


"Fun yet?"