---

September 28, 2006 - Lunar Club II Studies...

Comments: Tonight I am a bundle of energy and unable to focus on writing. I feel guilty because I should be finishing up the 2008 manuscript, but what the heck... I'm already through into October! As I sit here and try to concentrate, I get a some messages from Terry Mann and I'm simply too psyched up about participating in the Sally Ride Science festivals in Michigan this weekend to sit still. Besides...

I can see the Moon from my office window.

********************************************

Lunar Club II
Tammy Plotner 40.6 82.9
09/28/06 8:30 pm ESDT
Skies: 4.0 9/10
Scope: 4.5 reflector 25mm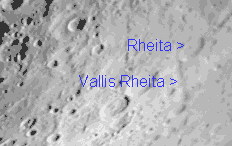 Vallis Rheita - OK. I was worried that I wouldn't get this one until next month because it would have been far better last night when it was cloudy than it is tonight. Hey! Guess what? It shows just fine! The Rheita Valley is a series of confluent craters that run along the southwest edge of crater Rheita for a distance of 500 kilometers ending in crater Young. While there's not a whole lot of contrast to go by, they look fairly shallow and it would be extremely interesting to know how they formed. As my opinion only, it looks like a multiple-strike.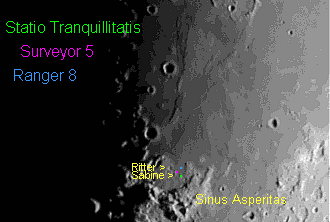 Ritter - This is not particularly an easy crater at minimum power, but shows only as a shallow ring.

Sabine - South of Ritter, Sabine has a little brighter edge making it more noticable.

Statio Tranquillitatis - "Houston? This is Tranquility Base... The Eagle has landed." What can I say about Statio Tranquillitatus that I haven't said hundreds of times before? I get a real thrill every time I look at this area, because I was there. I was watching when Apollo 11 became the first manned mission to land on the Moon. I was there when Neil Armstrong stepped down that ladder on July 20, 1969 and went into the history books. The names Armstrong, Aldrin and Collins are forever embedded in my mind! Even though the 4.5 doesn't provide sufficent resolving power to see the three craters named for them, I have seen them. Truly this is always a pleasure!

Surveyor 5 - Launched on September 8, 1967, Surveyor 5 was a total triumph for exploration. Landing on September 11 (how ironic is that?) not far from where Apollo 11 would follow, the amazing little probe sent back more than 1800 high quality television images on its first day. Soon to be plunged into lunar darkness the brave little instrument survived 2 weeks of freeze and immediately responded to its turn-on command and went on to add more than 1000 additional pictures and nearly another day's worth of data. Pretty cool, huh?!

Ranger 8 - Ranger 8 was a kamikaze mission launched on February 17, 1965. Before smacking into the lunar surface on Feburary 20, 1965, the gallant little probe took over 7000 images from its six on-board cameras that resolved the surface right down to 1.5 meters. All this happened in its last 23 minutes of flight!

Sinus Asperatis - Located just northwest of the trio of Theophilus, Cyrillus and Catherina, Sinus Asperatis is just a dark intrustion which looks like an area of seismic activity, or places where the lava flow piled up from the formation of Mare Tranquilitatis.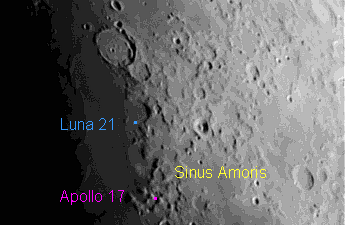 Sinus Amoris - Well, it's kinda' hard to be descriptive over something that doesn't have a lot of details! Sinus Amoris is just one of those weird transitional places that edge huge mares - in the case, the northern edge of Tranquillitatis.

Luna 21 - Of course, I'd much rather be playing around in crater le Monnier which is actually a lot more light that the photo depicts. It's an open crater, but what's cool is that is the final resting place of the Luna 21 mission. Launched into an Earth orbit on January 8, 1973, the Luna 21 mission blasted towards the Moon on the 12 and was orbiting by late on the 13th. After 40 tours from around 60 miles above the surface, they hit the brakes and the mission went into freefall on the 15th. Around a half-mile above the surface, the braking thrusters fired, slowing it down until it was less than 10 feet above the regolith and there it dropped. On board was the second successful Soviet lunar rover - Lunokhod 2. Hours later, on the 16th, the little tracker took off on the surface and by the end of its first day it had scooted along further than the first mission had it its entire operational time! Months later, on May 9, 1973, little Lunokhod 2 slipped and fell into a crater and rolled over. Unfortunately, it couldn't respond with its solar panels covered in dust, and by June 3 the mission was terminated. However, it was a huge success, taking more than 80,000 pictures and 86 panoramas - along with performing hundreds of experiments. Spaseba, commrades!.

Apollo 17 - Launched on December 7, 1972, Apollo 17 was the last manned mission to this day to land on the Moon. It's mission was a geological one, and one of the last two men to set foot on the Moon was also the first scientist-astronaut, geologist Harrison Schmitt While many wonderful stories and legends remain from this last mission, let the words of Eugene Cernan speak: "As I take man's last step from the surface, back home for some time to come - but we believe not too long into the future. I'd like to just [say] what I believe history will record. That America's challenge of today has forged man's destiny of tomorrow. And, as we leave the Moon at Taurus-Littrow, we leave as we came and, God willing, as we shall return, with peace and hope for all mankind. Godspeed the crew of Apollo 17."

**************************************************

And that, as they say, is that. Even though the skies were still beautiful and I chased that low southern Moon all over the place, I had best go get myself ready to travel.

I hope you enjoyed our journey...


"Show me how to live..."