---

April 7, 2007 - At the Observatory: Astronomy Day!

Comments: Well, I'm back to typing freely again. Are you ready to catch up? The last few days in Ohio have been stone cold. Our brief rise in temperature has left all of us yearning for Spring and flowers have began to bloom... Only to be blanketed by snow. No matter how many times I check the weather forecast, it looks like our Astronomy Day isn't going to be pretty.

But, it really doesn't matter. I don't think there was any one of us who wasn't having a great time putting together their displays and just looking forward to getting together for awhile. Heck, I even got my son Jon and his lady in on it, too! The dry ice had arrived for my comet, I had displays ready to go and my car packed to the max.

Of course, it was absolutely snowing so hard you couldn't see when we left. Round these parts we call them squalls and they will come down with fury for a short time and it's just as likely as not the Sun will be back out an hour later. Yeah, that fabled creature did peek in and out - but the wind and cold were merciless. I about jumped out of my seat when I heard my cell phone ring... What the? Dave! Dave is coming, too! How awesome... When I arrived, several of our other presenters were also there and we were ready to go!


So, off we went. Boxes flying, tables clattering, posters flapping, tape passed around and all manner of goodies that I had stashed away passed round. I had such a wonderful time gathering things together and it felt so good to have gotten handouts and small treasures. Yeah, it's a lot of begging... But, boy! Are they cool! Thanks to the outside conditions, we had no choice but to set up inside the dome and although it's a little crowded, the effect couldn't have been more stunning. We look like a regular science festival!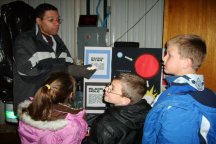 So what did we have? You name it. Terry McQ had displayed all of his wonderful galaxy maps and had seasonal charts and handout charts as well. Robert had the Moon Walk display with some of the activities from NSN. Curt is awesome with his spectroscopes and posters. I had a comet display and meteors... As well as several NSN activities. Jon had created a huge Mars expedition with a remote control rover. His lady, Laurie, had poster paper and glow-in-the-dark paints with celestial stamps. Barb had a very cool rocket display which featured indoor soft launches, small handout launchers... And the real deal we periodically went out and blasted off! Ken had done an awesome job with solar, and although we couldn't use the PST, it was still a big hit. Dan had done an alternate Mars rover and is one of the best people persons I know. Dave set up in the club house with demo telescopes and magazines, Joe took care of the planetarium program and made one of the coolest short instructional videos I have ever seen... And Aaron? Dude. He was the absolute star of the show with his incredible black hole exhibit!

Oh, sure. I've got pictures galore. I was so proud of everyone I could have popped buttons! Everyone's face was just shining, and to be honest, even if the public wasn't beating the door down we were having a great time! Of course, my poor comet flopped. I had seen this done on an instruction video, but dry ice is far less impressive when it's so cold it doesn't smoke. (that's ok, though... because jon, laurie and i also had a ball playing with the leftovers. ;)

At one point, it got so cold that we just all had to retreat to the club house to sit in the heat for awhile and drink coffee strong enough to kick a mule back. The time ticked on and fortunately Robert had discovered a wonderful place which would deliver pizza to the Observatory. Party's on, folks! So while we all dined lavishly, we watched Joe's stunning video again and played with the planetarium program. Then guess what?!

People!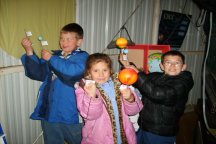 No, we didn't attack them... But we sure felt like it. It was simply great to be able to share all the things we had done and to watch the kids get excited about what they were seeing and doing. Rockets popping, rovers growling, planets flying, lunar landscape being explored, eager hands playing with 3D solar cards, maps and posters being passed around, rainbows tasted, and my comet even cooperated!


Even though Aaron's dry ice smoke effect had frozen the cup solid by then, I think the kids enjoyed the black hole most of all. We had put a black light above the display and when we turned the dome lights off, the gumballs glowed and when they rotated faster and faster before they were drawn in, it was an awesome effect! Although we only had a handful of visitors, they we just so excited to watch the rockets launch and do all the things, that I just wish the weather had been nicer. So who's to say that we just can't do it again on a warmer day, eh? It doesn't have to be Astronomy Day just to get good friends together and have a wonderful time!

When the public left, so did we. A handful of stars had come out by then... But the cold is really more than you can bear. After some 6 hours of being exposed, I seriously doubt I am the only one who is feeling it. Once everything was buttoned up and put away, it's time for hugs and to look forward to the next WRO/AFY adventure at Malabar Farms on the 21st. Let's hope we can get some great cooperation for the "Look Up For UNICEF" and reach a lot more people with the good word...

Astronomy is fun for everyone!


"Always... always... always... always... always... always..."