---

August 1-5, 2007 - Los Angeles, Pomona College, Claremont, California: "Cosmos In The Classroom"...

Comments: Well, you know if you haven't heard from me in awhile that something's gone wrong. I wouldn't leave without saying goodbye and I thank you for checking up on me! You were right... I was flat out on a rock like a lizard (scales and all). But, before we get there.. Let's talk about where I've been!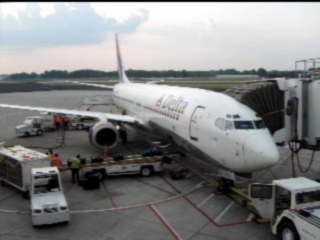 On the evening of August 1 this Boeing 737 was at the Columbus International Airport waiting with a window seat in the tail section with my name on it. I'd been pretty pysched up about going and that may have led to my downfall, but that's now... and this is then. At that moment all I could think about was my perfectly packed bag getting stowed in its belly and the fact that in less than 5 hours I'll be on the other side of the United States. Look, ma! No trading planes like gettin' on a crosstown bus. This one's allowed enough gas to go straight through! And once the pilots hit the throttle?

I was in heaven.

Sleep? Who in the heck are you kidding? I've tried, ok? But I wanna' watch the world go by at 700 miles an hour. I wanna' see cities nestled like warts on a toad's hide from way up above and watch gigantic lightning storms sweep across the prairie. I wanna' watch rivers curl like silver ribbons below and fly off into the sunset. I wanna' see the third largest city in the world from the air! And dang... I'll tell you that Los Angeles looks like a whole state it's so huge! In what seemed like no time, we were back down and the ground and I found my Dorothy-backside in a whole new world. Everywhere you looked were people and cars and people and buildings and people and big buidlings and traffic and people and cars and freeways and people and stuff... Did I mention it was big? Yeah. And a lot of people.

I got my car with no problem and by now I'm beginning to notice I was too excited to eat all day and my belly is telling me that 24 hours is long enough. Hey. The crackers and cookie on the airplane were great... But I'd kinda' like to find a steak, you know? So, I've used Garmin before and I set it for a restaurant... And can't find my way out of the parking lot. I mentioned this place was big, didn't I? And a lot of people. By the time I found my way out, I was thinking more that I better find my hotel first since it was getting pretty late for a stranger in a strange town. Garmin took me right to it... But I had to wait for awhile since LAX is a mighty busy place. Once I got my key I was ready to go... But the key was to the wrong room! Nothing like opening the door up on a total stranger.... The guy at the desk must of had his turban on too tight when he gave me the key... But finally I got my space.

Too late for a real meal, I settled for Taco Bell and only wished I had a beer. I called my Ma and she told me all about how to deal with security in a big motel and I could only laugh because I had moved my table and and chairs in front of the door. Not for security... But because they blocked the air conditioner! A little sleep... A hot shower... Turn in the key and tell Garmin where we need to go. What's that, then? Three hours to go 30 miles? You're kidding!

It wasn't kidding.

I did mention that there were a lot of cars and a lot of people and a lot of freeways and a lot of cars and a lot people, didn't I? Hey. I've got coffee and Garmin is perfect. LA freeways? Come on. I've driven through Columbus at rush hour. Been on my own through Memphis, Raleigh Cleveland, Louisville, Pittsburg, Detroit, Ann Arbor, Buffalo Cincinnati, D.C., Chicago, Dayton and Indianapolis with no Garmin to tell me where to turn. I'm not too sure what this carpool lane business is, but if you're going 85? Brother... I'm going with you. I made the college in a little over an hour and had plenty of time to eat some rubbery fruit, a dried sandwich and the awful coffee at Starbucks. I know exactly where I need to be, where to park, and what time the tour bus leaves for Mt. Wilson.

I'm doing great!!

So, I'm happily walking around and meeting people, picking up my much more appetizing looking lunch to take with me and waiting on the bus. Once everybody is there, we're off and rolling up them there steep, steep mountains to visit the Observatory. It was quite a lovely drive and not a soul on the bus would have traded places with the driver when we started up the drive to Mt. Wilson. Everything is hairpin turns and I kid you not when I tell you the front of the bus was going around a new turn before the back of the bus made it out of the old one. Sometimes it looked like we were going to go over a 3,000 ft. cliff, and others it looked like we'd kiss the rock wall before we'd get by. It was great fun!!

About 60 of us arrived at Mt. Wilson quite safely and impressed with the bus driver's prowness. Two tour guides awaited us and I knew there would be walking and I knew there would be stairs, but hell isn't below, folks... It starts at a mile high on a sunny day.

After about a half mile trek uphill, those of us who tend to be a bit more fluffly were happily panting and sweating buckets... Glad to just have stopped. My hair was soaked and I had to keep wiping my forehead to keep the sweat from my eyes. I wanna' see this place!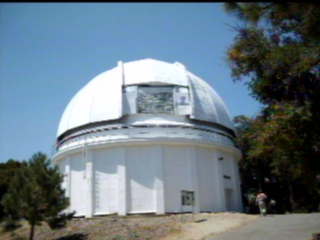 Our first stop what the dome where the 60" is housed and our cursory lecture on the history of Mt. Wilson and it's telescopes. What we thought was a "insider's tour" was just a typical guided walk and at least we were allowed to touch the dome, eh? Even though the guide told us it was identical to the 100" except for size, I still would have liked to have walked in the cool gloom and saw the scope.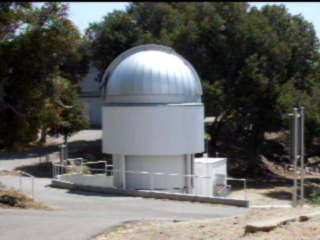 Next up was the beautiful Chara Array and the predictable lesson about interferometers. Now, personally... I found the little collection of domes to be very cool because I understand how interferometry works. Ya' take several scopes positioned in different places and then all of them start studying the electromagnetic spectrum of an object. Then you combine all that information and any time you get a exact same wave, it cancels out the other so you can get a really, really good look in a different part of the spectrum. It's all waves, homeboy.. Be them visible or invisible.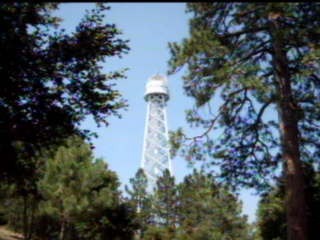 Next it's a truck to the 150 ft. solar observing tower. No matter how you slice or dice this one, it's beautiful and you can't miss it. It towers so far over the pines that it's a creature unto itself... Like one of those giant Martians in the new "War of the Worlds". (and h.g. wells is our guide, ok? i don't see how the old fart can keep up that pace!) When we came in the clamshell was closed and I've got lots of different views, but the one with it open is my favourite! Are you ready to walk inside and see how they do business? I sure am. It's hot out here and I've not been dry since I got off the plane. Let's dance...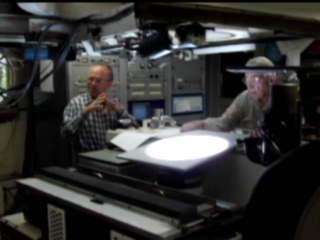 Inside it was everything I expected it to be. They still do genuine research here, but white light sketches are almost lipservice to all the new equipment used today. It's still pretty fantastic to see how the mirrors are aimed down at the worktable where the astronomer simply puts down a piece of paper and pencils in what shows on the base paper. It was fascinating to see a lot of the old sketches and how large some sunspots groups grew to be. Really a lot of fun and good to see older science methods still in action. Just think... It hasn't been that many years ago since this was state of the art!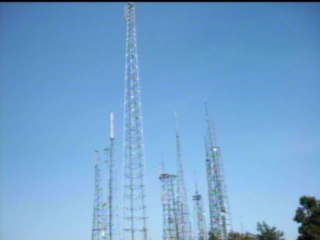 And here's some solid state art for you. No matter what mountain you are on in the Los Angeles area, you can't miss these towers sticking up towards the sky. The steel beamed reminders that we rely on television, radio and other electronic signals to make it on our way through our merry day. While the towers do play a role in Mt. Wilson's studies, I got the feeling they were more industrial than scientific. Of course, sticking an antenna on the highest mountaintop is still consider good practice, isn't it? You should have seen the geeks comparing how many service bars their cell phones got up there. Hey, brother... We're on a tour here, ok? If you can hear me now, put the dang thing away for awhile.

And the chant goes up for the 100" scope...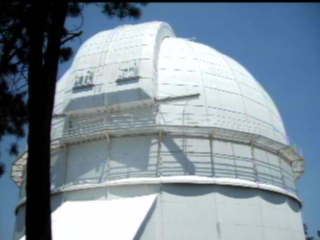 If you are an astronomy history buff, or even just a backyard sky jockey, this is the place to be. Yep. There was a walk... But my, my... Here were the stairs, amigo. Surprisingly enough, my prior workouts served me well and after standing in the sunshine and dripping outside the dome as we learned the history... We were finally in. And oh my gawd... It's big. No matter what angle I turned the camera I could not get the whole scope into the picture!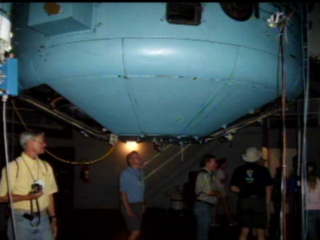 No amount of camera jockeying is going to convey just how grand this scope is. You could play football inside its astro dome, ok? When you drop back down to the basement section you can fully understand the size and weight of this mirror when you compare it to full grown people. That's one hunk of glass, brothers! And it's all blue... What is there, some kind of special blue paint that's for telescopes only? Forget the pier and the counterbalance, this behemoth is on a fork mount big enough to hold the Titanic!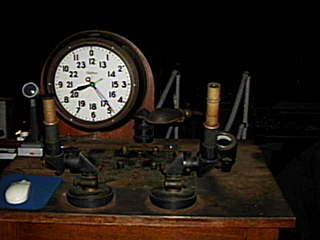 Edwin Hubble? Edwin Hubble? Are you peering around the corners from the netherworld? I've read you went as crazy as a loon from all those photons and I know how you got there. Is that your pipe I smell? There's no smoking now, you know. They'd string you up for that. Edwin Hubble? Edwin Hubble? Is that your hands I see on the ascention and declination controls? Edwin Hubble... Do you still look through the finderscope? Does your ghost still linger around that old straightback chair in the corner? The guide tells me it isn't the one seen in your famous picture... But he assures me your butt has been on it at one time or another. Edwin Hubble? Edwin Hubble? Did you ever fart in the dome and hear it echo?

Nah. Not a hero.

And so it's time to leave. As I start the walk back down a very kind gentleman offers to give me a ride in his truck. Are you kidding? Of course I went. I;d darn near sacrafice one of my colleagues just to be in the air conditioning for a few mintues! He takes me and a couple of others back down and we stop to talk. Well, now. We have an awful lot in common and he offers to take me and two other wiling passengers on to a private observatory. Did I go? Darn right I did. People who never have new experiences are the ones who are afraid to leave the tour bus. You promise me I'm going to end up back where I started and I'll forego that afternoon nap to see and do something new!

And off we go...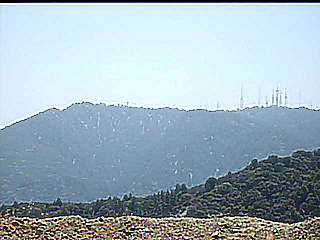 Of course, it's the same road back down, but a much cooler (God bless you) and more comfortable trip. My other two travel companions aren't exactly strangers and our benefactor (Tony) is a wonderful guide unto himself as I rattle off all kinds of questions and we even stop at a turnout to take a look back. He jokes about being a member of the Chamber of Commerce, but for visitors from Vermont and Ohio, his narrative is very, very welcome. Yeah. We got hills at home, but they ain't like these!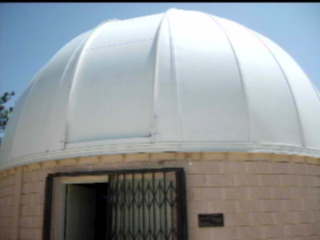 After driing for a fairly good piece, folks, we arrived at home. There's a reason why Tony and I have a lot in common and here it is. In my world it's Warren Rupp Observatory and in his it's Stoney Ridge. The telescope, the facility, everything except the native scenery is darn near identical... Right down to the story. I won't divulge confidences in a report, but I understand exactly what Tony is saying and feeling because I've been there myself... And neither one of us can bear to leave what we've come to love. It's just the way it is. We ate our lunch in the pleasant surroundings and took much pleasure from a huge pine cone dripping diamonds of sap. The lighting was just perfect and if you can imagine a pine cone large enough to kill you when it falls you can picture this.

The shadows are growing long... And it's time to move on.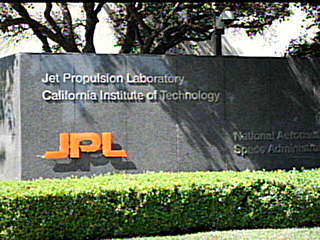 I did tell you Tony was a pretty special person, didn't I? If not, let me tell you again. I guess he understood without being told that for some of us it may be our only opportunity in this life to see things here and there's no need to ask.. He takes you there. Yeah. This is JPL and I'm damn glad I stuck my driver's license in my jeans pocket this morning! The security around this place is so tight that you're not even permitted to stop and take a picture of the sign without proper identification! Anyhow, it all made for a wonderful laugh and we got to cruise inside the gate a ways and have a look at the mighty Jet Propulsion Labratory.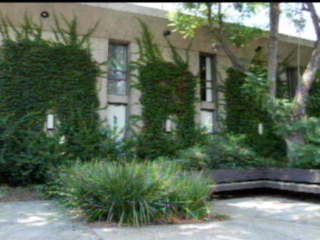 True to his word, Tony had us back in plenty of time before the dinner bell rang. I was early this morning and I hadn't even checked into my dorm room yet... And what a fancy building! See on the second floor where the blinds are pulled back and the lower window forced open? That's where I stayed. Very nice. Very clean. Very... very hot, amigos. The air conditioning wasn't on and the buidling had been left locked up for the summer. That room was a hundred degrees. Hey. I'm cool. Just glad I'm here, so I'll take a cold shower, turn on the air conditioner and lay on the bed until it kicks in. I think I'll put a cool cloth on my forehead because I feel sunburned, eh?

And an hour later it was still hot.

No matter... I'm sweltering but damn well going to look my best for the dean's introduction party. Nice white shirt, suitcoat, fluffy dried hair... And within 30 minutes I was drenched again. I'm sorry. People might think this weather is nice, but when we have days in the big O Hi O like this, we hide where it's cool, ok? And nothing here is cool. Don't get me wrong, I had a wonderful time meeting folks, but when I turn down free beer it's for a reason.

Thank the stars for Garmin. It lead me to a grocery store where I happily purchased some brew - then sat in the dorm parking lot with the car air conditioner on full blast until I felt better. I picked up a cup of ice at the local burger drive-thru and all I wanted was to strip down, cool off and rest. I got the lappy to connect to the wireless service, answered my email and iced my head down after I pried the window open. The air conitioner wasn't working, but I'm at least comfortable and safe.

Up at dawn, I showered again and about cried when I went to brush my hair. No wonder everyone wears a hat around here! My scalp is totally sunburned and so is my forehead. It's been a long, long time since I've blistered and it's just weird because I'm golden brown from swimming. Gosh, maybe the sun burns more out here? No matter, dudes. The world will live with me in a ponytail and t-shirt, because I've got classes to go to!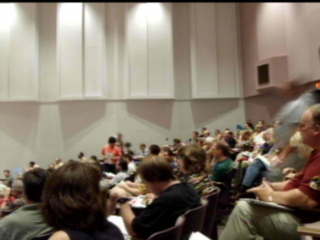 After a fantastic breakfast, it's time to head towards the Thatcher Music Building for the Lyman Theatre. This is where we will all meet as a group every morning of the workshop, hear the daily news and listen to the plenary lecture. We're an excited group, and Mr Prather's talk on How the Teaching and Learning of Astronomy Guides Instructional Practices is very welcomed. After that? We're on our own. Around 6 different courses are offered each section of the day and it's up to the individual to chose what best suits their needs. It's a long walk to the next location on a hot day... But I want the learning.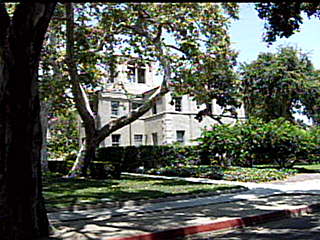 The Pomona Campus is quite beautiful and the time is sufficient for a 20 year-old to walk between buildings, but on old fat woman is wringing wet at 3 blocks in the sun. Ask me if I care! I want "Universal Education - Using Modern Cosmology to Increase Student Interest and Learning". Bruce Partridge was an excellent instructor and although I didn't expand my cosmological background, he gave me great new ways of demonstrating what I know! I only wish we had more "time"... Because I know a few tricks, too. An excellent choice!

Time for a lunch break. I am amped up and chatter happily with my table mates. There sure are a lot of mightly fine people out there and that Florida fellow can put away the chow! Don't blame him. I go back for seconds, too... Cuz' this ain't the mystery meat cafeteria food I was expecting. Mia amigoes sure know how to cook! Muchos gracias por excellemente comidas!

After lunch it was time to waddle to the next class.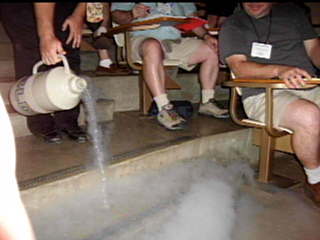 The next course offering I didn't even feel my feet or the heat, ok? We're talking physics here and if you give me a fellow with a pony tail, leyden jar, liquid nitrogen and a telsa coil, I'll give you a humble and adoring worshipper. "Cosmic Demonstrations for Teaching Physics and Astronomy" was absolutely up my alley. Taught by Bryan Penprase and David Haley, I watched them go through some simple physics tricks I already knew... And some I could never afford for my lessons - like liquid nitrogen. (hey! can i take some back to cool my room? ;) I really like these guys. When you pump up the vacuum to make solid nitrogen? Woo hooo!! That ain't something you see everyday!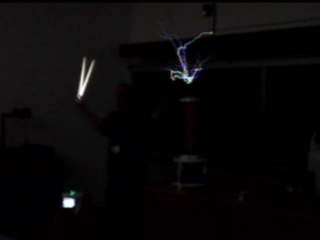 Of course, they also showed some very affordable "solutions" for demonstrating principles and I'm sure some of the young'uns I'll see along the way this year will get a "bang" out of them. I dearly love science toys. Of couse, I can't afford this wee bit of equipment... But what I wouldn't give to have a chance to be the conductor! Cris Angel? Move over, mind freak... There's nothing cooler or more mysterious than the laws of Nature!

Of course, you gotta' study law. ;)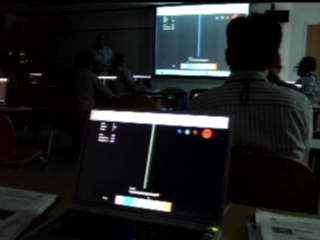 I practically ran to the next class, too. While we touched on spectra in physics, everyone knows I'm a spectroscopy freak and I wanted what Project L.I.T.E. had to give. I was a liitle unfamilar with how to use an Apple laptop, but my lab partner got us rolling and once you have me hooked, I can't stop. Ken Brecher from Boston University is an absolute freekin' genius and the program he's devised is totally brilliant. I have searched for years to be able to bring an affordable and understandble spectroscopy lab into the hands of the folks I give programs to... And he succeeded beyond my wildest imagination. He's figured out how to spit the spectral lines using a monitor screen! Given what I know about hex colors and programs, I can tell you he's a genius and I even stopped to worship at his feet. Yeah, I've used a lot of weird gadgets over the years to do the impossible... But it's here! Oh, my gosh... Believe me, you will hear far more about L.I.T.E. and it's impact on the classroom from me! Bloody brilliant...