---

January 12 - 15, 2007 - The California Kid...

Comments: I'm baaaaaaack... ;)

Although my time in California was short, I'm always burning the candle at both ends and I appreciate your returning and waiting on my to catch up with life again. Are you ready to dance?

Several weeks ago I had been invited to attend a planning session at ASP headquarters in San Francisco and it was a trip I was looking highly forward to. Back a few years ago, I swore I'd never set foot in CA again, but situations have changed and instead of being at anyone's mercy, I have the complete and total independence I enjoy here. Although I can't afford to stay long, I always keep a bit of money tucked away for a rainy day...

And it's been rainin' in Ohio long enough.

Boarding an airbus bound for Minneapolis-St. Paul before dawn at Columbus International Airport, I didn't sleep like most passengers do. I'm sorry, but I don't care how often I'm on a plane, I find it terminally cool and I always book a window seat and have my face pressed up against it for the entire trip. The first leg of the journey was fast, smooth and very, very cold in Minnesota. I enjoyed a short layover and from there?

Non-stop.

Long before lunchtime, I was on the ground in San Jose. Although I was pretty scared, I had everything planned so well that it was like clockwork. I don't even think my hair had time to blow in the wind before I was behind the wheel of a brand new Monte Carlo and learning to use a GPS! The flawless little machine told me exactly where to turn and minutes later I was in the parking lot of some place I had only seen on television - Winchester Mystery House.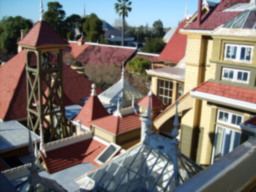 For those of us who like the Travel Channel, History, or Discovery, Winchester House is well known. Although reputed to be haunted, ghost-hunting was not what I had in mind. This is a fantastic old period piece where the original part of the Mansion destroyed by the big California quake of the early 1900s is totally preserved in situ - right down to the piles of bricks from fallen fireplaces and the cracks in the walls.

While this picture might not make a lot of sense, Sara Winchester (heir to the rifle fortune) believed herself to be haunted by the spirits killed by the Winchester rifle and in order to appease them never stopped construction on the house during her entire life... As a matter of fact, it still continues to this day! Doors that lead to nowhere, staircases that climb to ceilings, windows in the floor, twisting hallways, secret entrances... It's all here. The house winds and winds and winds around itself in a gorgeous display of one-time wealth. It was an awesome experience!

Afterward, I was enjoying the warm afternoon sunshine and up on top of one of the mountains I could see the white mushroom of Lick Observatory. Why the hell not?! So, I set the directions towards my goal and off I went. Even though the drive was short in miles, it was long on hairpin turns, sheer drop offs and enough switchbacks to make any flatland driver cringe. Although I would have loved to gawked out over the scenery of San Jose so far below, for safety's sake I kept my eye on the road and arrived on the windswept mountaintop to find myself all alone.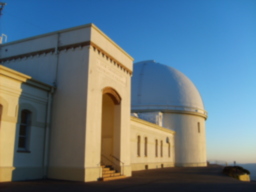 You know what? It's really not such a bad thing! I tried to call some of my friends from my own observatory, but you are really out of touch up here. Fortunately, the door was open and I happily wandered the halls. Although I have been here before, it is different for me this time. Evenutally I ran across the curator who simply gave me permission to enjoy myself and when she was free, she took me on a tour of parts of Lick Observatory the public never gets to see. What an honour to sit in this seat, or touch this piece of equipment!! I know the history of the place and knowing I was touching, standing, or being where some of my past heros have been is an otherworldly experience for me.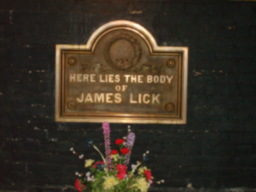 I guess my enthusiasm for where I was at (and respect) was pretty obvious, for I was taken places that no one but staff goes. Heading down a narrow staircase, I found myself in the bowels of the great observatory and with it the final resting place of James Lick - his body interred under the massive pier of the scope above me. I can't tell you what an honour it was to be where so few have gone before and to see the original mechanics of the building. Although the place isn't haunted, I half expected to see E.E. Barnard peeking out from the shadows!

Afterwards, I was invited to have a look at the 120" Shane reflector. Cautious and respectful of the genuine science going on around me, I was deeply moved to be introduced to those working and be allowed to watch them calibrate things for the evening's observing. Although the invitation was out to stay longer, I very much remembered the drive up and figured I had better make the drive down before dark!

They gave me a blonde Garmin...

Oh, it took me to my next destination alright. But it didn't tell me I would have been better off to have turned around and gone the other way down the hill! To make a long story short, I got to see a huge amount of California countryside and got more driving experience on mountain roads. Mad? Heck, no! I wasn't lost, had plenty of gas, and although I didn't get settled in for the night as early as I had hoped, I truly had a great time.

Before the dawn even considered breaking the next day, I was off and running again. This time it was to San Francisco to meet at the Astronomy Society of the Pacific Headquarters. The little machine performed flawlessly and although driving here is not like flat-land, there was still time to get there comfortably and even have coffee before beginning. When I walk in, I see faces that I recognize, but never put together with names. Only I could watch an entire training video and never once associate names. What can I say? I was more interested in what was being said than who was saying it!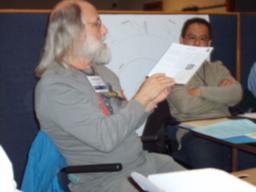 For what it's worth, it didn't take very long to familiarize myself with the folks and the meeting was off and running. Although I'm not really at liberty to talk about what we did and discussed, things were extremely fast paced and I am totally humbled and fascinated by just how sharp the minds at work behind these things truly are. In a world where I thought I was pretty good, I was soon to be totally captivated by a few individuals whom I would have loved to have tucked in my suitcase and brought home. You don't have to spout a bunch of highly educated hogwash my way to impress me, but when you can show me in a few simple sentences, a hand gesture, or a bit of paper, a new concept?

I want your mind.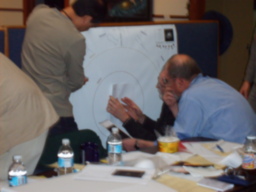 Everything here was hands-on... And for tactile learners like myself, it was better than Disneyworld. Once again, I was very impressed with how well everything had been thought out and recognized some of my own tricks-o-the-trade incorporated in new ways. Let's just say they used the same basics on certain subjects that I'd been doing for many years and packaged it very neatly! Everytime someone said you should do this or that, all you had to do was look at the materials we were provided with and you could see that they had thought of everything. Besides that, they taught me some new tricks and although I might be an old dog? I learn new tricks really fast.

The meeting was absolutely wonderful and I didn't want it to end. Thanks to Comet McNaught, the entire group decided to head for the beachfront before the Sun set to get a glimpse of the mighty comet.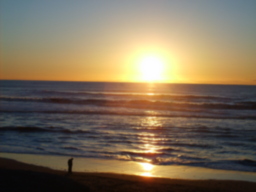 What could be a more perfect ending to a perfect day than this, eh? Lord only knows that those of us who are West Coast deprived always dream of the green flash. I mean, it really couldn't get much better, could it? The answer is yes. Although the comet was just barely visible unaided in the strong sunlight, an even brighter light was about to appear as my long-time acquiantence and illustrator for many of my books joined us on the beach. I can't adequately express just how pleased I was to finally meet the incomparable R. Jay GaBany in person!

Well, of course I had arranged to meet him! You didn't really think for one second that I could be that close to someone whose outstanding astrophotography has graced both the covers and interiors of my books without having dinner, did you?! Part of the joy and pleasure of knowing someone virtually is when the day eventually comes that you finally meet. And the prognosis is, doctor, that I liked Jay every bit as much in person as I have through our correspondence and work together.

Jay? You're awesome!

By the time I made it back to home base, it didn't take long to be out for the night. I remember stepping outside for a smoke and admiring just how dark the north sky was... And not much else. I've got one more full day left here in California, and I intend to use every second of it!

Back on the road again before dawn, I headed south towards San Francisco again. There is simply too much to do and see before I leave and I have booked myself on a tour bus for comfort. Although the Garmin would have taken me to anywhere I wanted to go, it's not the knowledgable and entertaining tour guide! I learned more about the town, it's history, and everything we were seeing than I could have ever dreamed possible. And he knew where to park!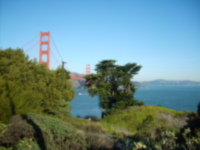 One of our first full stops was on the 'Frisco side of the Golden Gate Bridge. Yeah, we've all seen it before, but you really can't imagine how awesome it is until you see it in real life. Not far away sits Alcatraz Island and you would genuinely swear that it would be possible to swim the distance. It just doesn't occur to you that this is the ocean! Bay Bridge is also very picturesque, but there's nothing like seeing that post card perfect image of everything you know of a storybook town.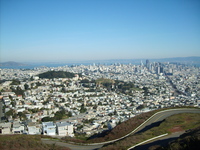 From the streets of Haight Ashbury through Chinatown, we wandered everywhere. Through magnificent gardens and parks, Nob Hill and all the famous places from the movies. (Yes. The hill from "Gone in 60 Seconds" is really that steep!) Cable cars, trolleys, horse and buggy. All these things are there and all just like you see on television. Again, what never occurs to flatlanders is the vista from the mountains. From way up here you can look down on all that's around you and marvel. It truly is a very special place.

Last stop of the day is Fisherman's Wharf and my car is parked only blocks away. Leaving the tour to wander about on my own, I explore nooks and crannies, museums, shops and restaurants. I watch the sealions sunbathing and the boats move in and out. I dine lavishly and enjoy gardens. I send postcards and pick out souvigneirs. I sample chocolates and coffees and enjoy streetcorner musicians.

And then I go under the Bay.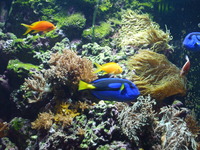 The Aquarium Under The Bay is just that. Wonderful glass tunnels where you can see all the fantastic seawater marine life that thrives below the surface. Colorful fish, sharks, starfish, rays, and anemones. I have one picture of a whirlpool of small silver fish that were above my head and I could have stood and watched them all day! There are enough pictures of all of these things to fill album upon album, thanks to my new digital camera. What a shame they take up so much storage space or I would share them all!

By sunset I am heading back to home base again to collect my friends for dinner. There is one last stop that I would like to make before I leave and it is not far away.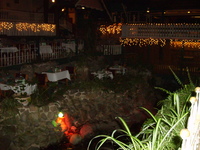 The Brookdale Lodge is also another Travel Chanel and History Channel destination. Yes, I have been here before, too... But I want to be again. The atmosphere is like being inside of a very large, well appointed barn with a babbling brook running through the center of it. The live stream is indeed the charm of the place and low lighting makes it a wonderful experience... Not to mention the great food! Here again, all is as it looks on television. It could very well be formal, but equally welcome to a "family dinner". Is there a ghost? Yes. It was right behind me on a walkway. Almost everywhere I've been in the last three days have been alight with spirits, but the beauty and joy is not yelling "I see a ghost!", but knowing the little time loop is playing over and over again. It's quite a privelege to at least sense it's there.

Afterward? Home base again. It's a beautiful starlit night out, yet I am content to enjoy the companionship of my friends. Too many years often pass between visits, and I notice we have all greyed a bit more since the last time. I am tired, hurting, but I am happy and my time here has almost ended.

Up early once again, it's time for the local cafe before heading back to San Jose. It has been a great trip, and it's time for Dorothy to head home. Once the car has been returned, I find myself with a comfortable time before departure and holding good natured conversation with the some of the same passengers I flew in with. The flight out is overbooked, and although I was greatly tempted to take NorthWest up on their offer of a free round trip passage to wait 12 hours - I am also ready to be back where I belong.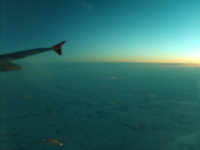 Although I am tired, I cannot sleep. I watch the mountains, deserts, and frozen land unfold before me. I did not think about a magical time until it was upon me and I realized that we were going to fly through the terminator into night. What Hand of Grace saw fit to open my eyes to this beauty? No one around me was particularly impressed, but I am here to tell you there is something very mystical and wonderful about crossing the line between day and night from high above the world. Ahead, the stars were shining - the ground dark except for the twinkle of cities like molten pools of gold far below. Behind is the sunset, the sky blue and colorful and the land lit with long shadows. It was an experience I will never forget.

The rest of the trip was spent staring at the stars until the fascination of the city lights below brought me down to earth. It was a textbook trip, just like I had been doing it all my life. My light bags were quickly in my trunk, my parking paid and I was back on the straightaway on famliar turf. It was snowing!

A fitting end...


"Well this is not for real... Afraid to feel. I just hit the floor... Don't ask for more. And, I'm wasting my time. Yes, I'm wasting my time..."