---

July 21, 2007 - At Malabar Farms....

Comments: Ah, yes... The most welcome rain and very glad that it departed in time for the AFY Star Party at Malabar Farms! But, sometimes first things come first and that means a trip to the Observatory for a Board meeting. But, that's OK, because we really needed the communication time. During the last year our public nights have become so busy that if you aren't there early when we give a member meeting, you're liable to miss out on some important topics we've been discussing. Each month I do a recap of all of our activities and plans... and a lot of times I have to go by present member approval when a decision needs to be made. Sometimes that's a difficult thing to do when many of our board members are most often not present at the time... But, hey...

I do my best.

Anyhow, it was good to be there and get some solid information from people. Fund raising, tax status, conventions, grants, etc... All of these things are time critical and while our group is not known for its expediency, perhaps the inability to come to a quick decision, determination or action is what's caused problems in the past. Sure. I'm willing to take the heat. After all, when you're the one in the kitchen who needs to make the decision on what to cook and nobody's home, you've got to expect that. You can't always please everyone with the dinner you've made, but at least you're not letting the rest of the family go hungry. Ya' dig?

Afterwards it was time to head to Malabar and enjoy the star party! It was an awesome, clear and beautiful night. On arrival at dusk, the group was fully set up and busy entertaining the public with educational programs, happy and conversational people and all kinds of things to do! I am so proud of them. AFY's attendance has also grown well over the last couple of years and it's great to see grant suggestions and donations in action. Just take a look at this!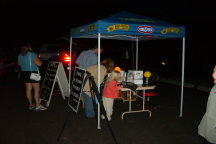 You should have seen this thing the first night it appeared out a certain car trunk. I remember all of us laughing while we tried to figure out how to set it up, but the important thing was that they realized its potential. Sure. It wasn't easy the first few times, but after a bit of practice it changed and you'll never know how good it was to see other ideas implemented as well! Stuart and Al have got the art of poster making down to a fine science and everywhere I look I see outreach grant materials in action. Better get to it myself, huh?

I was delighted the Charlie had also decided to join us and brought along not only his HUGE binoculars, but a video eyepiece and small TV as well. While he went to work setting it up, I gathered up my little box of outreach tricks and in just a matter of minutes a crowd had gathered. Charlie aimed it at the Moon and thus began the next couple of hours. The really clever part about the binoculars is that the video eyepiece can go in one side, while the person can look through the other. Teaching craters, how they were formed, etc. becomes an easy matter of being able to point out on the screen what you are talking about and the person can also get a first-hand look at the same time. Both kids and adults are always happy to get a little learning in on top of what they're seeing if it's fun! There were several young'uns and adults that I remembered from the past and how good it is to see them still interested!

The night kept going... It was wonderful to loop around to all the different telescopes and admire the view. Ken had brought mounted binoculars as well and when the cry went up for a comet, it certainly didn't take long for us to produce a map and all eyes were turned its way. C/2006 VZ13 has definately brightened over time and it's an awesome sight in any optics.

But the night didn't stop there. I did say the skies were fantastic, didn't I? If you want incredible, use a pair of binoculars that are like looking through twin small dobsonians and sweep the Saggitarius, Ophiuchus and Scorpius regions. Bull-rider Grant was one of the first takers and willing to listen. I explained how to run a slow and steady grid pattern and then he sat down and did as instructed. Every few minutes he'd call out and I'd go look at what he had found. Needless to say in 30 minutes or so, he'd conquered a huge portion of the Messier list and globular clusters! And Jupiter? Oh my dear sweet stars... Once again, just like at Apollo Rendezvous, we were all blown away by how bino vision allows one to see the galieans as not only dimensional - but true orbs as well.

By then it was getting late and the public had started to drift away. Now is when the view really got fun! Between all these heads we'd keep coming up with new and awesome things to look at and you'd be surprised at just how freaky and incredible Barnard dark nebulae looks in big binoculars. The things were so black they looked like they were pulsating. Just tremendous...

Into the wee hours and time to enjoy Robert's big Obsession and right on down to Mars. It's not going to be long until dawn and although it's cold? Who cares! It was another one of those really, really memorable nights...

And I'm damn glad I was there.


"Why do we dream when our thoughts mean nothing? And when will we learn to control..."