---

June 9, 2007 - At Camp Avery Hand: Field Competition and Exams...

Comments: 08:00, Sir. I am here and ready to spend the day with the troops. This is the day of their field competitions and exams on everything they've learned. The object of today is the all the troops are divided into teams. They are given maps, turned loose in various areas of the camp, and they then must navigate to all the different "stations" in the camp where they are given both a practical and written exam on everything they've learned at this training exercise.

I am event "Charlie".

Armed with my military radio, stop watch, exams, notebooks, folders, score cards, brief case and ever present thermos of coffee I am given a very comfortable shaded porch on which to sit at a picnic table and await my teams. The weather is extremely pleasant and I have worn all of my astronomy "medals" on my suit... I try to be intimidating. But I just can't be.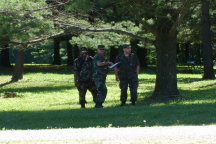 I watch them come up over the fields, sometimes double-timing it... Other times at a stately walk. They salute when they arrive and I call in their times, hand them their tests and start the stop watch. As they answer the questions, I watch them. I made the test - but I didn't make it easy. If you were paying attention... You'd score high. As luck would have it, not only were they paying attention, but they were paying a whole lot of attention. Group after group commented on how beautiful the skies were last night and how much they enjoyed putting what they had learned into use! Oh, man... If you can get them to look up?

You've done your job.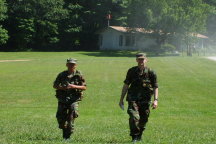 Out of all the groups I had, the lowest score was a 90%. The fastest time for completion of both halves of the exam was under 2 and a half minutes. You know, they really were listening! And that's a good thing. As each would complete it, I would grade it, mark their score cards, call in their times and wish them luck. They got a whole lot of ground to cover in just one day. Not all of them will make it...

But 95% of my pupils had a perfect score.

At several points in the day, various Colonels came to visit, along with Master Sargents, Majors and even a One Star General. Let's just say I was very honored when the General sat down to take the exam and watch him raise his eyebrows when he realized that even he was capable of making some very common night sky mistakes. It wasn't very hard to use a pen and draw a few diagrams to set things to rights and it pleased me to no end that I was truly of service.

To the service!

At 18:30 I turned in my exams, results and honors the the Command Post and headed out. It had really been a grand day and all I wanted now was just a couple of hamburgers on the grill and some cold beer to wash it down with. The night turned exceptional again, but I'm just too dog tired to do anything more than sit here on the deck...

And count shooting stars.


"I'm six feet from the edge and I'm thinking..."