---

May 15 - 18, 2007 - Indiana Retreat...

Comments: As you may have guessed from my absence... Well, I've been absent. AWOL, sir. And proud of it! It was the time of year for me to take a road trip and join my good friend and editor and our log cabin retreat. Time to celebrate all the hard work we've put into this last year's two books, to take a look a future books and to generally just actually talk to one another instead of communicating through email.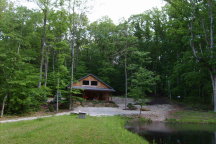 As you can see, this might be rural but the luxury is very real. The moment you unpack your bags you can feel yourself beginning to unwind. The quiet woods, the peaceful water, the sunshine and the birds... All of it makes for an incredibly relaxing environment where no detail is left undone and no extras left unappreciated. The weather is cool - yet warm - the woods are green and the pleasure of my friend's company is very real.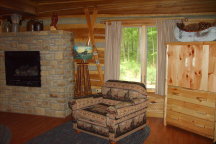 It is hard to express how beautifully laid out these cabins are. Even photographs do not do them full justice! A far cry from a motel room is a cozy, warm, inviting home that is amply large enough to provide for personal privacy and yet together enough that you truly are spending time with a valued friend. I think when a lot of people read these reports or read my books that they truly don't have a grasp of the kind of time and energy that goes into them. Sure, I type at the speed of the wind... But I can't type at the speed of the mind. I can have an idea or a vision, but it doesn't just pop up into the pages without one heck of a lot of help!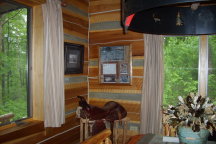 Therefore, it is very important to at least take one time a year to turn off all the busy circuits and make each other understand how very much we appreciate the hard work and dedication it takes to make things work. Just one look around this great cabin is inspiration for that very thought... For a lot of hard work and dedication went into making this place of retreat what it is. Although the first night was cloudy and rainy, it really didn't matter at all. I don't think we would have looked at the stars anyhow... It's just so great to see each other in person again!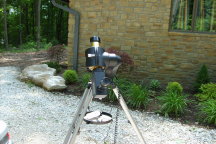 By late the next afternoon, the Sun was out and shining. Sitting on the floor beside the bookshelf was a wonderful Coronado solar scope and I have never had a chance to use one with my own two hands. Even though the mount I had brought with me was incorrect for the scope, I make my livin' off makin' do and a few technical adjustments here and there was all it took to have it secure and ready to aim at the Sun. While my friend was napping (woods have a way of doing that to you), I took it out and aimed it. It ain't easy with the wrong mount because the shadow aim won't work, but hey... We're talking about the daggone Sun! Sooner or later I'm going to hit it... Fortunately, it was sooner than later and I'm sure I made enough noise to wake the dead. We both enjoyed the h-alpha treat!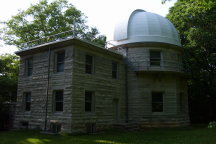 Next up? A trip into town and a chance to walk the beautiful old campus. I have pictures galore and was just exceeding happy to see the stomping grounds of a treasured friend. One of the best parts about our walk was an interior park with brick pathways... and a hidden treasure. Deep inside the leafy green-ness was Kirkwood Observatory! What a magnificent old facility... I truly have a soft spot for antiques and timeless things... and Kirkwood fills the bill. Even with my limited imagination, I can easily picture young astrophysics students rushing from their stately classrooms to spend the night viewing. This grand old place still holds public programs!

After a sumptuous dinner of Indian cuisine, we retired back to our own woodlands to rest and wait for the dark to fall. It's time to go observing! Of course, I always forget something important and this time it was my starcharts. Thanks to a few quick phone calls to Dave and to Joe for pinpointing it, I had the instructions for Comet Lovejoy and was ready to head out to an open field away from the woods. After having toyed with the Sun today, I knew a computer driven slew was going to take me forever to find the comet without a little "virtual" help!

So, here we are. At the edge of a superb field (yes, we had permission), scope set up, chairs, the whole nine yards. We did Venus, Saturn, M44, all the usuals and along comes the clouds. Time to wait it out? You bet. And as we sat there, in came a car...

Complete with red and blue flashing lights!

Ah, yes. This is indeed the first time I have been clocked for doing light speed while standing still! Needless to say, the Indiana State Highway Patrol was amused if nothing more. We certainly were! After a few more, the clouds came back and it was time to head back. Time to just relax, unwind and have a good laugh at our adventure!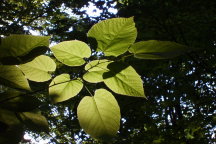 And so our time has all too quickly come to a close. We have very much enjoyed reviewing photo possibilities for upcoming books, watching the Carl Sagan series "Cosmos" and entertaining ourselves with campy old science fiction and good food. While I am not much of a gardener, while I walk in the trees I am struck by how many little aspen seedlings there are growing on the forest floor. Perhaps... perhaps I can liberate one? You would laugh at an old woman on her hands and knees digging up a small tree, oh so carefully. It was quite at home in its cardboard soda box and is now quite at home in my backyard. All it needs now is a little water... A little lovin'...

And a little Sun.


"Sun, sun, sun, here it comes... Sun, sun, sun, here it comes... Sun, sun, sun, here it comes..."