---

November 5, 2007 - Comet Chasing Around the World...

Comments: For awhile there I thought tonight was going to be a cloud out. Thankfully after the temperature took a nose-dive the clouds rolled back and it was time to roll out the dob and do my surveillance on Comet Holmes!

As I was setting up, I got to thinking about all my friends from around the world. Because Holmes is holding an extremely steady northern position, my good friends in the southern hemisphere really don't have much of a chance with this one. Instead, they've been chasing 2007/F1 LONEOS!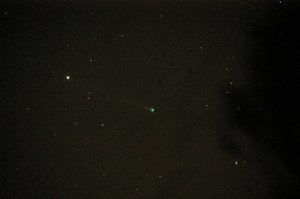 If we could turn back the hands of the clock a bit more here, we could also see LONEOS. Sweeping along through the mid section of Scorpius, and only a little more than half an AU from the Sun, LONEOS is holding around magnitude 6 and would be possible from the north - but not this time of year. Thankfully Justin Pyke of Australia has had his camera out and we're able to share! It really looks like a nice, brilliant little compact dude that we'd be yapping our flaps about if we could see it. I'm so glad I have friends down under that share! You don't know what I'd give if we could get these guys up here some time.. and how I'm hoping I can save the money to head to Macedon Ranges and enjoy Skytopia this coming year!!

Anyhow... I'm rambiling again, aren't I?

As I watch 17/P Holmes, I think about how much this particular comet has brought together friends as well. I've been talking with people that I haven't communicated with in so long... Canada, Northern Washington State, Kentucky, England, The Netherlands, and one very special and very talented lady in Ireland...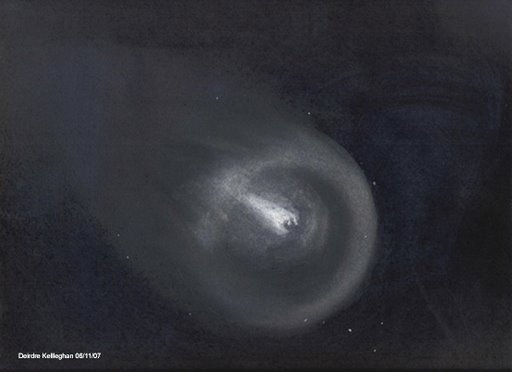 Deidre Kelleghan has been a friend for quite some time now and she produces sketches that are simply beyond compare... As you can see! When she shared this sketch with me, I knew I had to share it with you because you've seen Holme's "bubble like" outgassing qualities and her sketch relates that far better than any photograph I've ever seen. As I look in the eyepiece, I can see the ion tail dragging back and I don't know if it's a trick of my eyes or not.... But it's beginning to show visually, too. Oddly enough, it persists in binoculars, so it must be real! Look at what this great comet has done for all of us... We've been watching from Mansifeld, Howard, Fredrickstown, Crestline, Seville, Ashland, Ontario, Galion, Martel, Akron, Cleveland, Canton, Columbus, Dayton and so much more...

I salute my observing heros all around the world tonight... You guys make it all worthwhile.


"They say that a hero can save us... And we're not going to stand here and wait. We hold onto the wings of the eagles... Watch as we all fly away."