---

October 11-14, 2007 - Hidden Hollow Star Party...

Comments: Ohio weather. One day it's so bloody hot you can't stand it. The next day it's cold. It rains. It's clear. It can never make up its mind... But will the Hidden Hollow Star Party survive Ohio?

Yeah, boy.

By the night of the 10th it was raining again and definately getting cold. Packing the truck up with the heavy things and throwing a load of firewood into the back, I headed to the Observatory to begin set up for the Hidden Hollow Star Party. There's a certain charm to a big stone fireplace and I've lived with wood for the last 17 years. To me? Well... I'm used to feeding a fire and I just want to be sure everyone stays warm!

By the next morning my internal frenzy had started. I was expecting a very dear friend to come in that morning from out of state and we had lost touch with one another. I packed my things and prepared as slowly as possible, but when I didn't have any word by a certain hour I just got anxious and left. Thank the stars! I found him asleep in the ClubHouse, and I am eternally thankful he made a safe trip.

Within hours, other club members had started to arrive and set up their own camp for the weekend. It was a wonderful time as we laughed and worked together to create a star party out of thin air. A year's worth of planning goes into one of these events and when things begin to happen, they happen within hours. Although this night is also rainy, it was still a great time to sit around in the ClubHouse stuffing weekend packets and laughing. The next day is about to begin!

By Friday morning the folks were beginning to arrive and we were about as ready as we could get. Speaker halls were set up... Prizes were arranged... Everything was a go but the rain. No matter. We have all these beautiful buildings to work with and by late Friday afternoon our programs had begun and folks were having a wonderful time.

And then the skies cleared...

The sky gods smiled upon us! Although the clouds wandered in and out periodically, it really didn't much matter. Can anything matter when you see Stephen's Quintets looking like a picture in the eyepiece? By dawn the skies were crystal and heartbreakingly beautiful...

Saturday was a three-ring circus... But in a very good way! Every where you looked there was activity and folks having a wonderful time. I'm always going in 18 different directions at once, but what fun! Here's my highlight...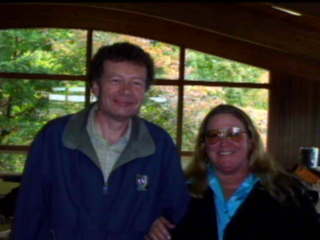 After a day filled from dawn to dusk with speakers, raffles, planetarium programs, workshops and more... This was the one fellow who made everything have that extra special touch. I have had ties with Phil Harrington in the past, and I knew he was a super guy... But not just how super until I saw him in action. Folks? He's one of my heroes and I hope I grow up just like him. He's got time and an ear for everyone and you'll never meet a nicer fellow. Not only is he astronomy smart, but he's a very awesome individual and I thank Phil deeply for joining us this weekend!

Of course, the old Beatles tune "I get by with a little help from my friends..." is so perfect for this. Ron Ravneburg, Mark Friedman, Tom Whiting and Phil Creed did a tremendous job with their programs. Certain people are like rocks for me, and when I get tired, it's folks like Jason Shinn, Terry Mann and Brent Archinal who are there to give me hugs and laughter right when I need it the most. Yeah. They might be guest speakers, but they are also incredible friends and I love them very much!

I am so proud of our Club for pulling together. Gents we rarely see were there to lend a hand at the wire, and I cannot thank Terry.Robert, Carl, Barb, Ken, Bubba and both Dans for all their help! Joe, Keith, Dave and John were also on pointe and Bruce did an awesome job of keeping the 31" open all night and rockin'! Very special people, like Mike A. gave things a touch that were beyond my capabilities and how fun it was to see folks faces when they won awards! Oh, my... where do I start? Even our friends at the MVAS and ones from AFY are such a part of all this... Guys? Words cannot express my appreciation. Know that I am always at your service!

By dark on Saturday I thought I was a goner. So very tired.... I hid away and made myself a sandwich, intent on taking a nap. People find me and it's not long until I am talking and refreshed again. I hit the starry fields in search of my friend Vic whom I also deeply enjoy and to spend some time with Tom. The next thing you know? Venus is rising and dawn is soon to follow. I head back for a couple of hours of sleeping, laughing with Charlie and grinning like a fiend when I see the bodies on the sofas the next day. We are tired... But we are happy.

When things wake up, it's time to head out to breakfast with a few very special friends and then back to break down camp. The time has passed far too quickly and folks have slipped away without a goodbye... It's the way of things. We had a fantastic Hidden Hollow Star Party this year and it will be days before I recover.

But I did. ;)


"You take advantage by... You hang me out to dry. And I can see you every night... Free. And I do."