---

September 14 & 15, 2007 - Black Forest Star Party, Cherry Springs, Pennsylvania

Comments: Hey, hey... It's a great morning for a drive! My car was packed yesterday afternoon and after a couple of hours sleep I was ready to just take a shower and hit the road. The skies were still beautiful this morning and it was oh-so-tempting to just wheel the scope out into the driveway and poke around in Orion for awhile before I left. As much as I'd like to, I've got folks waiting on me down the road and it's time to just turn the key and put 460 miles between me and the backyard.

Yes. It really was a great drive! I had my thermal mug of coffee with me and caught up with Barb and Ken just before dawn for a bowl of oatmeal and a pit stop. There was more than once I found myself trying to doze, but I'd keep fighting it off and moving forward. It wasn't long (or at least it didn't seem that way) until we were on the New York / Pennsylvania border and ready to stop for lunch. It felt good to get out of the car and stretch... Good to ingest some caffiene... And even better to know that Black Forest wasn't that much further away.

We arrived in the early afternoon and found the rest of our friends with ease. Hey! Who could miss that big banner that reads "Warren Rupp Observatory - Mansfield, Ohio"?! Our motel room was already secured for the night and it was time to set up shelters, prepare equipment and just generally moan because the rain was on the way. Honestly? I love the dark clear skies there, but even more so I love the opportunity to see friends. What a pleasure it was to have Michael around for the afternoon and early evening! We converse a lot by email, but nothing takes the place of having the person right there with you. I know I grinned around like an idiot and didn't talk much... But, hey! Ya' found out I am what I am in person, didn't you? ;) Just me. It was just great to be able for all of us to go out to dinner together and have a few laughs!

And yes. It did rain that night. It rained hard and it rained often. Time to give up the ghost around 10 or so and head back to the motel room for some rest. Eat my handful of pills, chase it down with a cold beer or two and just finally get some much needed sleep.

I was up well before dawn.

Yeah. I'm a night crawler. I sneaked out of the room as quietly as I could so I didn't disturb my sleeping friends. I walked around outside and had a smoke. Went to the lobby and fixed coffee. Walked around for awhile more and then sneaked back in for a shower. Sleepy sounds were coming from the other side of the room, so I just headed down to the lobby for a bite to eat, some more coffee and went wandering around in the little town of Coudersport for awhile. When it got close to time for the guest speakers to start I went back to the room and woke 'em up. I distinctly remember Barb swearing at me and even if it is sarcasm, I'm outta' there. I really enjoy coming here each year and I'll sleep when I get back, thanks!

It's time to listen to some of the speakers that interested me, find other old friends and visit with the vendors. Yeah. It's misting rain, but there's always a welcome canopy here and there and lots of good friends to talk to. I took pictures of everyone and if I had to sum up the whole weekend in just one shot? This would be it...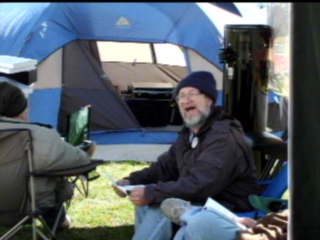 You'd have to know Joe to know how important this picture is. Joe seldom smiles and Joe even less frequently laughs. Catching Joe in a picture both smiling and laughing is like trying to catch spontaneous combustion, ok? I considered myself quite lucky and I've got a lot of other great pictures of my friends that I'll enjoy over the years. One is of my good friend Vic and his daughter. Hey, now... He's one of the reasons I love to come to star parties! We just really hit it off with one another and as the afternoon creeps on he, his daughter and I all sneek off to grab an early dinner before the draw for the door prizes.

Back right in the nick of time, I took my few tickets and joined everyone else at the pavilion who was hoping to win a prize. Before we left for dinner, I had put my tickets in on two things... A video and DVD to use for public outreach and a Celestron Sky Scout which would also be a great public outreach tool. Guess what? I won all three. No one was more shocked than me, because I know the can for the Sky Scout was crammed full of tickets. All I can say is "Come round and enjoy it! I've got plenty of batteries and you're welcome to play with it any time!" LOL... Remind me next time when I go to put a ticket in for a prize to really hope I win a Nagler eyepiece for public outreach, will you? Heheheheeee... Aw, smile. I can't use an eyepiece anymore and I can't help but look at everything as a teaching tool.

It's just the way I am.

Despite everyone's worry, the sky gods smiled down on us and the clouds departed not long after it got dark. My friend Charlie had sent his astro scan telescope with me and I was really looking forward to just putting the little round ball through its paces and seeing what it could do. I started off with it on a camera tripod that holds its bowl-like cradle. Because it's not very tall, I ended up sitting down which was strange for me and observing with my right eye was even stranger. The whole arrangement just really made me nervous because the astro scan moves so easy and I just couldn't keep from worrying that despite the strap that it would tumble to the ground. When it started to dew, I decided it would just be best to put it away for safety's sake and there in lies the rub...

You cradle the baby in space.

The moment I put that thing in my lap, every astro gear I have in my head began to click and whirl. By cradling it in your arms like a baby, the eyepiece falls into the perfect positon for the right eye. Well, surely it's impossible to use your body as a mount and hand hold a telescope!! Oh, my... I've never been so wrong in my life. The super rich field of an astro scan is an entity unto itself and by positioning my chair with my left shoulder pointed toward the section of sky I wanted to examine, everything fell into place. I could literally hold it, look up at someone and talk, and look down and the same object would still be in the eyepiece. Would this work for everyone??

Excited, I called Robert's son Carl over to give it a try. Carl is like me... He's a dob user and very accustomed to finding objects by simply knowing the field that's in the eyepiece. Talk about a young man laughing! He was amazed as well, and soon after the astro scan made the rounds of eager hands. The design is so perfectly balanced that it's very, very easy to hold it steady and looking straight overhead is as simple as putting it in your lap. No wonder Edmunds continues to make and sell these delightful little telescopes!

Through rich field eyes, I explored every inch of the heavens. Dark nebula became so apparent they were almost heartbreaking. Star clusters spangled, planetary nebulae glowed, globular clusters rolled across the night and huge vistas like the Veil and North American nebula strung against the starry background like wisps of smoke. Body heat kept the little beast dew free and although I took more than one good natured joke about nursing a telescope, I cradled that baby in space until my eyes were filled with stars... Then I... Still stopped and stared into the sky.

The clouds came and went. I visited with friends and looks through myriad scopes. Many friends I will see again in just a few weeks! The night turned very cold and despite my many layers of protection, my hands began to ache horribly and I found myself chilling. I took a brisk walk after a cup of coffee and then again later as the shakes settled in. It's too late now. The damage is done and when the clouds roll back over to cover Orion's beauty? I know it is time to stop. I take the quiet walk back to the car, drive down the hill and sneak back into the motel room. I don't sleep a whole lot anymore, so it's strange to me. A hot shower cures the chills and a boxed dinner finds itself in the lobby microwave. I swallow my pills, enjoy a beer and quickly enough the dawn arrives again after a few hours sleep.

I exit quietly and drive back up the hill to collect my gear and wish my friends vaya con dios. The drive home is long and quiet... And I find myself seeking out a safe spot to snooze away the sleepies for a short time. Long before sunset I am home again. There's always a price to pay for overdoing, but I am a willing purchaser. I'll ache and be tired in the days ahead, but who cares?

I had a wonderful time.


"It's okay.... Had a bad day. Hands are bruised from.... Breaking rocks all day. Drained and blue... I bleed for you. You think it's funny, well.... You're drowning in it, too..."